Do you think that you have the patience and skills to take on a DIY project? But what it if it involves your plumbing systems or fixtures? Do you know the right things to do and the best tools to use to ensure that everything will go as smoothly as possible? If no is your answer, know that you can still proceed with the plumbing task, but this time, with the help of a qualified plumber.
Plumbers have dedicated most of their time doing plumbing tasks including repairs, maintenance, installations, and emergency work. And with their assistance, there won't be plumbing-related issues that you can't overcome. Sounds good, right? To help you find the most reliable plumber out there, check out these 6 best options you have in Minneapolis.
1. Hero Plumbing, Heating & Cooling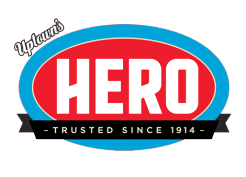 Best For
General Plumbing Work
Services Offered
Pipe repairs

Water heater replacement

Emergency services

Gas/water piping and leaks

Drain services

Air conditioning and heating work

Address
3110 N Washington Ave, Minneapolis, MN 55411, USA
Contact Information
+1 612-324-1004
Website
https://www.callhero.com/
Hero Plumbing, Heating & Cooling has been dealing with the plumbing problems of Minneapolis residents for over 100 years now. Having so much experience in the field, they have gained all the skills and knowledge necessary to fix any plumbing issues in the quickest way possible. From minor to major plumbing tasks, their technicians can handle it all and guarantee you with 100% customer satisfaction.
2. Erik Nelson Plumbing LLC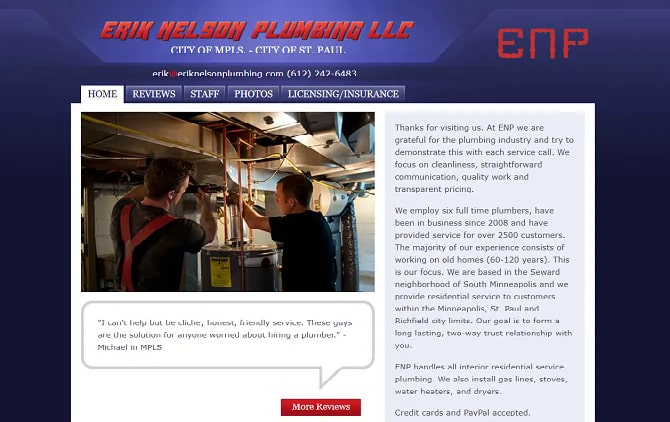 Best For
Residential Plumbing
Services Offered
General plumbing work

Plumbing installations

Address
2617 37th Ave S, Minneapolis, MN 55406, USA
Contact Information
(612) 242-6483
Website
http://www.eriknelsonplumbing.com/
Erik Nelson Plumbing LLC is a company that focuses on quality work, transparent pricing, and tidiness in every task they do. They are known for their capacity to handle all interior residential plumbing issues as they have lots of experience dealing with homeowners, working on old homes particularly. You can call them at (612) 242-6483 if you need help with the installation of water heaters, dryers, gas lines, and other related work.
3. Soderlin Plumbing, Heating & Air Conditioning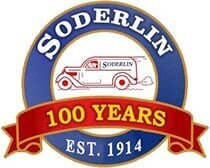 Best For
General Plumbing and HVAC Work
Services Offered
Drain cleaning

Plumbing replacements, repairs, and installation

General plumbing work

Air conditioning work

Furnace, boilers, and water heater services

Address
3612 Cedar Ave S, Minneapolis MN 55407
Contact Information
612-721-4080
Website
https://www.soderlin.com/
If you need excellent plumbing services but you're on a tight budget, Soderlin Plumbing, Heating & Air Conditioning is the company you need. They offer flat-rate pricing, so you know the right price to pay since initial contact and won't have to deal with hidden charges. Apart from being one of the leaders in providing smooth and valuable plumbing services, you can also trust the company to help you whenever you're having trouble with your heating and cooling units.
4. Gopher Sewer and Drain

Best For
Drain and Sewer Line Cleaning
Services Offered
Residential and commercial plumbing

24/7 services

Drain clearing

Maintenance cleaning services

Address
4230 Central Ave NE, Suite 2, Columbia Heights, MN 55421
Contact Information
(612) 424-2205
Website
https://www.gopherseweranddrain.com/
If you think cleaning drains and sewer lines is too much trouble for you, you can always call the team at Gopher Sewer and Drain. They provide services to both commercial and residential clients, helping them keep their drains and sewer lines clog-free. They are also available 24/7 so anytime you need their expertise and assistance, they will be there for you, offering cleaning services, maintenance work, and a lot more.
5. Southtown Plumbing Inc.

Best For
General Plumbing Work
Services Offered
Residential and light commercial plumbing

Drain cleaning

New construction and remodeling services

Plumbing repairs and replacements

Address
6636 Penn Ave S, Minneapolis, MN 55423, USA
Contact Information
+1 612-866-3057
Website
http://southtownplumbing.com/
Looking for a plumber that can do it all at a fair price? Then look no further than Southtown Plumbing Inc. They are staffed with master plumbers who are skilled and experienced enough to handle both small and large plumbing projects. From fixing a simple leak to creating a complex layout and design of a plumbing system, they can do all these and more with unwavering dedication.