If you're aware that complicated plumbing tasks shouldn't be handled by yourself, then most likely, you have thought about hiring someone to help you out. Following this, you must have also spent some time finding the right plumber to work with.
For sure, there are lots of plumbers out there who want to help you out. But although they are willing to assist you and get their hands dirty, you need to be sure that they also have the necessary experience, skills, and tools for the job. Otherwise, your money will just go to waste for getting substandard service. To prevent these from happening, just focus on these 6 best plumbers in Milwaukee and determine the right one for your needs.
1. Knight Plumbing, Inc.
Tired of waiting all day for plumbers who don't turn up on time? The team at Knight Plumbing, Inc. would never do that to you! You can easily consider them as your best friend plumber because they will always arrive at your property promptly, anytime you need them. By personalizing their services and providing solutions tailored to your needs, they can surely take the stress out of dealing with drain cleaning, sump pump troubles, and general plumbing.
2. Reupert Plumbing Co Inc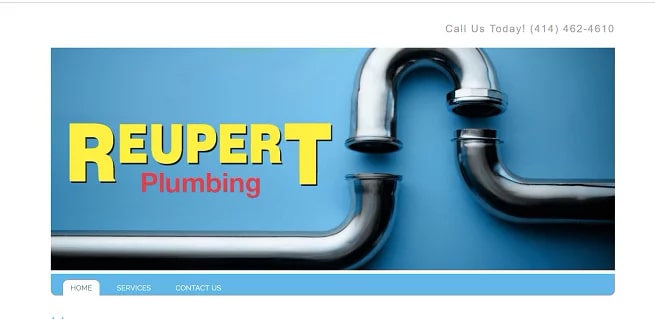 For the very best plumbing services, Reupert Plumbing Co Inc is among the companies that you can trust. They have radio-dispatched trucks on stand-by so once you call them, guaranteed that all of your plumbing concerns will be attended to in no time at all. Their top-tier, wide-ranging services include drain cleaning, repairs, emergency plumbing, and much more. And because they have been operating since 1945, they sure know how to carry out any plumbing task and finish it on the same day.
3. Faust Co. Inc
Faust Co. Inc differs from the rest as they specialize in providing plumbing services to commercial and industrial customers. They're also an expert in handling commercial, industrial, and institutional systems, taking care of everything from design to the building process. Their plumbing expertise cover pumps and ejectors, fixture and faucet installation, water distribution, sewer testing, backflow prevention, and a lot more. See the complete services they offer at https://www.faustco.com/.
4. Rozga Plumbing & Heating Corp.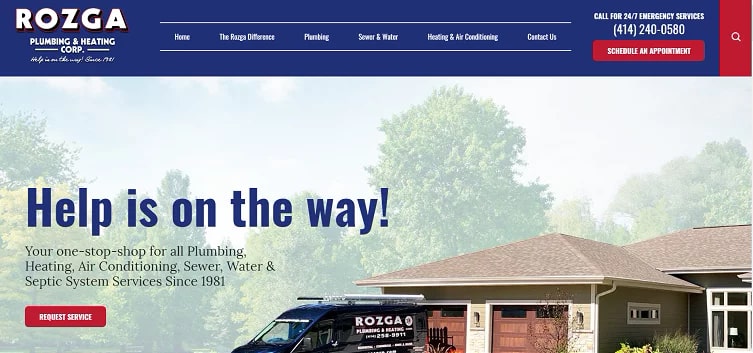 Rozga Plumbing & Heating Corp. has been trusted by householders and business owners for more than three decades. Since they're equipped with the best products and tools for any plumbing project, they are able to deliver prompt and satisfying results. They specialize in general plumbing work, septic tank and plumbing, sewer services, as well as heating and air conditioning work. Whenever you need them to resolve issues or minimize damage to your systems, they are available to help.
5. Diamond Plumbing Heating and Cooling
The qualified and experienced team at Diamond Plumbing Heating and Cooling promises to fix your plumbing issues and fulfil all your needs in the fastest way possible. They also prioritize quality work when doing any plumbing job, so you never have to worry about getting substandard services. Call them at (414) 369-3691 today to get your plumbing issues fixed on the same day.
6. Even-Kiel Drain Cleaning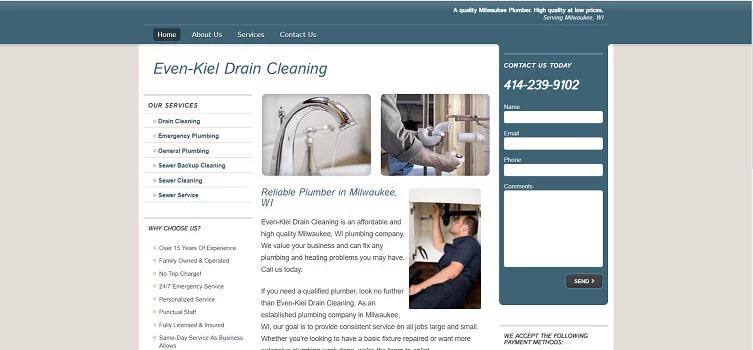 Even-Kiel Drain Cleaning is consistent in providing premier quality plumbing services regardless of the size of the job. Milwaukee residents keep on coming back to this company not only because of their commitment to providing outstanding solutions but also for the wide-scope of their plumbing services. Their team can handle emergency plumbing, sewer and drain cleaning, and general plumbing work professionally and with quick turnaround time.