Plumbing issues come in a myriad of forms and sizes.  It may be you're experiencing dripping faucets, low water pressure, or a jammed garbage disposal.  Whatever it is, we can't deny that they are hassles.  For such problems, we enlist the help of our friendly neighborhood plumbers.
If you're living in Cork, Ireland and need the help of a professional plumber, we recommend that you call on these guys.  They are part of the leading players in the industry and their teams of plumbers are highly trained not to let you down.  Scroll on to get to know these brands.
Note: Due to the current pandemic outbreak, we've noted the relevant service changes for some of the shops listed below. Where applicable, we've noted the policy or service changes.
1. Andrew Turner Plumbing

BEST FOR
General plumbing
SERVICES
Dripping taps

Leaks and repairs

Radiators not working

Central heating not working

Toilet not flushing

Slow or Clogged drains

Water Heater

Shower nor working

Airlocks

Low water pressure

Bathroom renovations

Gas and oil boiler installation, service, and repair

ADDRESS
166 West Avenue, Parkgate, Frankfield, WF1 4
CONTACT
Phone: 087-166-0582

Email: [email protected]

WEBSITE
http://aturnerplumbing.ie/
Andrew Turner Plumbing is a fully qualified and reliable plumber headquartered in Cork City.  It has been serving Cork residents for over 30 years and is known to provide fast, prompt, and high-quality plumbing services.  Andrew Turner Plumbing is fully-qualified and insured, a plumbing service provider you can absolutely trust.
2. Foleys Plumbing
BEST FOR
Domestic and Commercial plumbing works
SERVICES
Plumbing maintenance, services, and heating systems

House buyer drain survey

CCTV drain survey

Gas plumbing and boiler services

ADDRESS
Unit 29D St. Patrick's Woollen Mills, Douglas, Cork, T12 VP93
CONTACT
Phone: 021-245-5250 | Emergency- 087-465-5234

Email: [email protected]

WEBSITE
https://www.foleysplumbing.ie/
Foley's Plumbing delivers same-day response service to avoid prolonging your plumbing issues.  The company also provides efficient and effective workmanship as well as top-notch customer service.  All its services are guaranteed and its team of professional plumbers always aims to exceed customer expectations.
Note: Still operating for COVID-19.
3. Cork Plumbing

BEST FOR
Domestic and commercial plumbing & heating works
SERVICES
General plumbing and heating

Boiler services or breakdown

Power flushing

Drinking water filters

Gas and oil services

Carbon monoxide testing

Emergency plumbing

ADDRESS
Not available
CONTACT
Phone:087-612-3785
WEBSITE
https://www.corkplumbing.com/default.html
Cork Plumbing has been serving Cork residents and businesses for years, providing outstanding plumbing services and customer satisfaction.  It offers same-day service of quality workmanship so that you won't be left with your plumbing dilemmas for too long.  All works are insured so that you, as customers, have the peace of mind.
4. Ciaran Looney Heating & Plumbing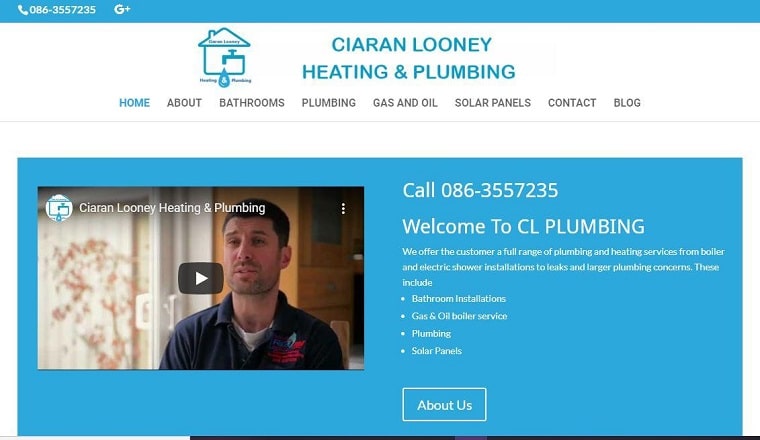 BEST FOR
Domestic and commercial plumbing & heating works
SERVICES
Full bathroom installations

General plumbing

Gas and oil services

Solar solutions

ADDRESS
Sallybrook Industrial Estate, Riverstown, Glanmire, Co. Cork, Ireland
CONTACT
Phone:  086-3557235
WEBSITE
https://clplumbing.ie/
Ciaran Looney Heating and Plumbing, a certified member of the Registered Gas Installers of Ireland, has been serving Cork residents and proprietors for over a decade.  It offers full-range plumbing and heating services, ensuring that you only receive full customer satisfaction and excellent workmanship.  Every work is guaranteed and fully insured so that clients will rest assured to receive only the best service.
5. Dyno-Rod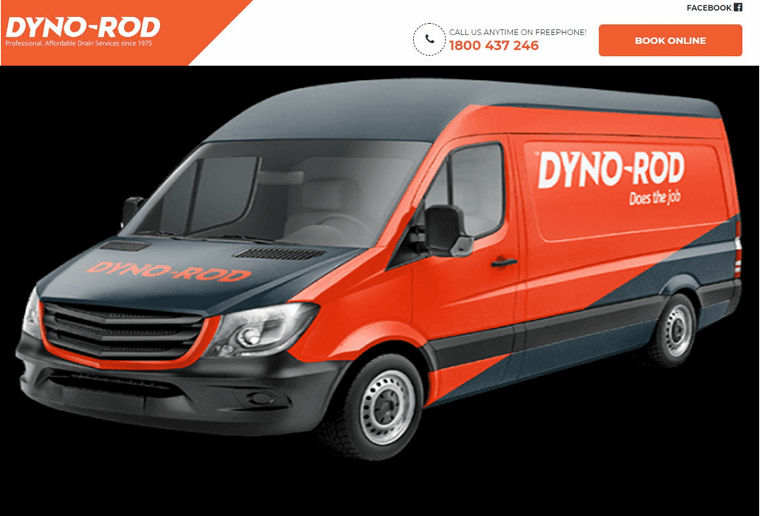 BEST FOR
Domestic, commercial, and industrial drain services
SERVICES
Pipework installation

Drain repairs

Unblocking toilets, sinks, showers, baths, and drains

Onsite wastewater treatment systems

Grease trap services

CCTV drain survey

Odor tracing

ADDRESS
Unit P1, Marina Commercial Park, Co. Cork
CONTACT
Phone: 021-432-2444

Email: [email protected]

WEBSITE
https://www.dynorod.ie/
 Dyno-Rod is specializing in drain works and offers a 24-hour emergency response.  It has been servicing not only Cork City but also the residents and businesses all across the Republic of Ireland.  Its team of fully qualified engineers is always ready to provide first-rate customer service, superb workmanship, and cutting-edge solutions in order to exceed client expectations.
6. Drain Doctor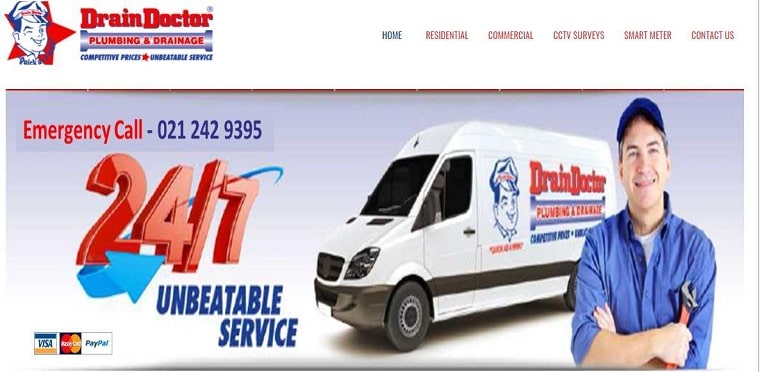 BEST FOR
Residential and commercial plumbing & drain works
SERVICES
Emergency plumbing

Full-service plumbing and drain cleaning

Faucet and sink installation, repair & replacement

Pipework

Water heaters

Septic tanks

Dishwashers

Water lines

ADDRESS
Unit 28, Tramore Commercial Park, Tramore Road, Cork,Ireland
CONTACT
Phone: 021-242-9395

Email: [email protected]

WEBSITE
http://draindoctorcork.ie/
 Drain Doctor, a licensed and insured business, has been servicing Cork City with full-range plumbing and drain services for years.  It also provides 24/7 plumbing, emergency plumbing services as well as licensed and fully-insured technicians.  Its team of professional plumbers delivers prompt and dependable services.  They will arrive uniformed and badged, driving a Drain doctor vehicle.