One of the major issues with homes is related to their foundation. This problem is very common among Atlanta houses due to the frequent wet climate and poor soil.
It mostly shows in the form of cracking, splitting, and mold and mildew growth, all of which risk the occupant's safety and health. That's why they have to be fixed by a trusted pro ASAP.
So here, we have collated the very best foundation repair specialists in Atlanta to make your search more efficient. We'll be exploring their services, warranties, advantages, and more.
The Average Cost of Foundation Repair in Atlanta
The average cost of foundation repair in Atlanta is $3,500 to $6,000. However, you can spend higher or lower than this range depending on several factors.
These include the severity of the foundation damage, repair method used, labor, materials, house value, and duration of the inspection.
Since not all homes have the same problems, it's best to get in touch with your companies of choice for accurate estimates. Then, pick the one you think offers the best value for your money.
The Best Foundation Repair Services in Atlanta
We rated the different service aspects of our contractors before adding them to this list. These are as follows:
You will see our score for each of these criteria after the info table of the company. Speaking of which, let's now move on to our top list!
1. Reliable Solutions Atlanta LLC

SERVICES
Basement waterproofing
Crawlspace waterproofing
Interior waterproofing
Exterior waterproofing
Drainage
Concrete
Foundation repair
WEBSITE
http://www.waterhelpme.com/
ADDRESS
1361 Middleburg Hunt, Lawrenceville, GA 30043, USA
CONTACT DETAILS
770-895-2039


[email protected]

OPERATING HOURS
Open 24/7
| | |
| --- | --- |
| Criteria | Score |
| Work Quality | ★★★★★ (5/5) |
| Service Range | ★★★★☆ (4/5) |
| Customer Service | ★★★★★ (5/5) |
| Professionalism | ★★★★☆ (4/5) |
| Warranty | ★★★★☆ (4/5) |
With over two decades of experience, Reliable Solutions Atlanta can be relied on for their waterproofing and foundation repair services.
Due to storms and rain showers, your foundation, if not stably built, can be flooded. This can greatly damage your crawl space and basement.
They can do anything related to house waterproofing. They even remediate surfaces with black mold growth, thus, preventing them from releasing allergen spores and affecting your family's health.
All of their tradesmen are licensed foundation repairers and Institute of Inspection Cleaning and Restoration Certification (IICRC) qualified in mold removal. They are also equipped with a subfloor pump that can take in murky and contaminated water.
Customers testified that they are professional and friendly. Also, they explain the procedure to the client so they know what's going on.
Plus, they have the best warranties for your confidence!
To make their service more affordable, they offer financing options. With it, you can split the total amount into equal monthly payments so you won't use up all your money on hand at once.
As for their cons, their rates aren't indicated online, and they don't have other foundation services or related work that other companies offer. A few examples of these are masonry repair, gutter guard installation, and possibly, hydrostatic pressure test.
Highly qualified team
Accredited by the Better Busines Bureau (BBB)
Gives a solid warranty
Offers financing
Takes credit cards
Doesn't offer other foundation repair services
Complaints about their service
Customer Reviews
Knowledgeable and very detailed team
"I have used Alex and his crew for a few years now when I did a lot of investment reno for homes. I have also used the on my personal property for foundation issues. They are knowledgeable and very detailed. He gives you the best options and provides a warranty on most items. I refer him to all of my clients as I am in real estate." -Janelle Weithers
Gave a competitive estimate
"Extremely pleased with Reliable Solutions' finished work and would highly recommend them to anyone with any type of foundation project. Alex and his Team are super friendly, professional and skilled. Reliable provided a very competitive estimate and stuck to it! And for all the reasons stated, I decided to expand their work into other areas of the home. Reach out to me if you need more assurance that hiring Reliable Solutions is the best choice for your project." -Anthony Cachot
2. CrawlSpaces & More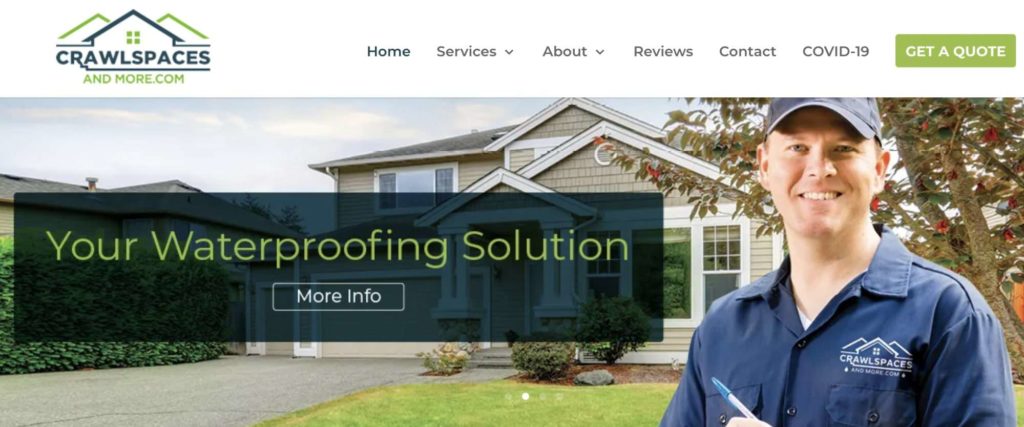 SERVICES
Basement repairs
Crawl space encapsulation
Concrete services
Foundation repairs
Mold remediation
Pest problems
Waterproofing
WEBSITE
https://crawlspacesandmore.com/
ADDRESS
2625 Piedmont Dr, Ste. 56-185, Atlanta, 30324 GA
CONTACT DETAILS
(800) 701-9828


[email protected]

OPERATING HOURS
Monday – Friday: 8:00 AM – 4:00 PM
Saturday – Sunday: Closed
| | |
| --- | --- |
| Criteria | Score |
| Work Quality | ★★★★☆ (4/5) |
| Service Range | ★★★★★ (5/5) |
| Customer Service | ★★★★☆ (4/5) |
| Professionalism | ★★★★☆ (4/5) |
| Warranty | ★★★★☆ (4/5) |
If you see any signs of foundation damage like drywall cracks, uneven doors and windows, and sloping floors, among others, you should call a professional right away to inspect and repair them.
The tendency is the damage will only get worse as time goes on if you ignore it. This translates to greater danger and more costly repairs—and you'd want to completely avoid them.
Certified and recognized, Crawlspaces & More offers foundation repair services, including epoxy and urethane injection to seal the cracks, preventing water as well as pests from entering your house.
In addition, they offer crawlspace encapsulation to seal the space to prevent excess air and moisture buildup. These two variables can lead to mold and mildew growth, which weakens wood and causes respiratory issues.
Also, they carry out a range of concrete works. Your house might need them to fortify your home's foundation, prevent raised floors, jammed doors, and other structural issues.
As clients can attest, they always come on time and are ready to work. After they assess the situation, they give you feasible and economical options so you can get value out of their service.
Interested? You can schedule a free estimate by phoning them or filling out their form online. But note that they're only open on weekdays.
Award-winning company
Fully certified team
A+ rating from the BBB
Gives a great warranty
Offers financing
Closed on the weekends
Complaints about workmanship and responsiveness
Customer Reviews
Efficient and on-time team
"I like the fact that they give you a thorough and honest evaluation of the all the issue. Then they provide with several options and cost. They will more importantly work with you. The workers show up on time get the work done and clean up then leave. I would hire them again." -Vernon Davis
Honest, reputable, and responsive
"Happy to offer the strongest recommendation to anyone looking for an honest, reputable, and responsive foundation repair company. I contacted Jim Briley and his team for a leak that had resurfaced from previous work they had done, and I heard immediately back from Jessica to get me on the schedule. Then, when Jim came out, he spent time and extra care to do the job right. He came back twice to assure there were no leaks. Over and above excellent customer focused service, especially since this was a warranty repair." -Terry Jones
3. Anglin's

SERVICES
Foundation repair
Chimney repair
Chimney inspection
Floor leveling beams (for crawl spaces or sagging floor)
Basement wall repair (bowing and cracked walls)
Garage door opening repair
Bay window repair
Brick repair – masonry repair (only along with structural repairs)
Building repairs
Commercial foundation repair services
Concrete (for driveways, walkways, patios, decks, or concrete slabs)
Deck post repair
Helical piers
Pre-construction piers
Resistance piers or push piers
Slab piers and slabjacking
Prolift/poly-foam concrete raising & leveling
Stoop and steps sinking
Tiebacks and sea wall anchors
Walls falling, anchorings, or pinning
WEBSITE
https://anglinsfoundationrepairs.com/
ADDRESS
1027 Oregon Trl SW Marietta, GA 30008 USA
CONTACT DETAILS
+1 770-422-2924


[email protected]

OPERATING HOURS
Monday – Friday: 9:00 AM – 5:00 PM
Saturday – Sunday: Closed
| | |
| --- | --- |
| Criteria | Score |
| Work Quality | ★★★★☆ (4/5) |
| Service Range | ★★★★★ (5/5) |
| Customer Service | ★★★☆☆ (3/5) |
| Professionalism | ★★★★☆ (4/5) |
| Warranty | ★★★★★ (5/5) |
Anglin's has garnered more than 35 years of experience in the construction industry. They can do the whole lot for residential and commercial sites from chimney to foundation repair.
In particular, their services are comprised of concrete building or repair, crack repair, brick or stonework repair, and all sorts of pier installation, including helical, slab, and resistance piers, to name several.
With them, you can get a complete house repair service from top to bottom. And there's no need to look for another specialist and pay a higher rate.
Ever since their opening, they've done numerous foundation projects successfully. They give a free inspection and have the ability to determine the correct method for fixing your house's foundation.
Although, some clients complained they had trouble contacting them. And others expressed dissatisfaction about the fact that the price and workmanship weren't as they expected, despite their price guarantee.
Now, setting them apart from their competitors is their lifetime, transferrable warranty. This means that your house stands on a safe and stable foundation, and if there's an issue, they'll fix it.
Also, if you do decide to sell the house sometime in the future, the lifetime warranty will not be voided but instead transferred to the new house owner so they can simply call in the team if any structural problem arises.
It'll be less hard to pay them, as they take major credit cards, namely, Visa, Mastercard, American Express, and Discover.
And being rated highly by customers on Find Local Contractors for three years in a row (2019–2021), Anglin's has earned a spot as one of the best foundation repair providers in Atlanta on this list!
Highly qualified workers
A full array of services
Has a price guarantee
Gives a lifetime, transferable warranty
Accredited by the BBB
Takes major credit cards
Closed on weekends
Complaints about price and customer service
Customer Reviews
Honest and prompt service
"Quick to call back and totally honest. I wasn't sure if I had a foundation issue or a flooring issue but after a few questions, Nathan helped to figure out that it thankfully wasn't a foundation issue. Insteand of trying to sell me a job, Nathan helped me to make a good decision. I hope I never have foundation issues but if I do, this is the company I'm hiring." -Aaron Gray
Great experience with our repair
"We had a great experience with our repair. Had originally been given a quote for 1 pier, however, when performing the job it was determined that to avoid any future trouble, a second pier was necessary. Chris worked with us and gave us a good price for adding the second pier.
Some other companies had given us estimates with several piers and foam that were over 3 times more expensive that what Anglin quoted for us." -Diego Remolina
4. Ram Jack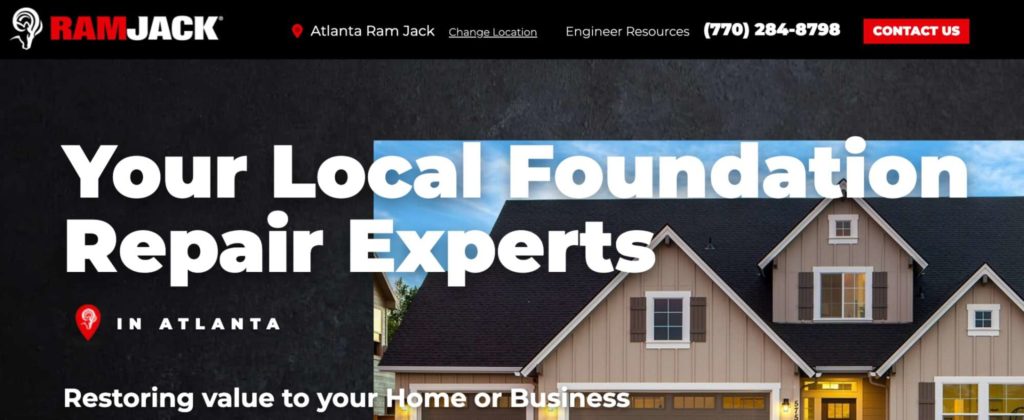 SERVICES
Residential Foundation Repair

Driven piles system
Concrete lifting and repair

Commercial Foundation Repair

Helical piles
Brackets
Driven piles
Engineer resources
Solutions
Products

WEBSITE
https://www.ramjack.com/atlanta/
ADDRESS
1730 Cumberland Point Se Ste 2, Marietta, GA 30064 USA
CONTACT DETAILS
(770) 284-8798


[email protected]

OPERATING HOURS
Monday – Friday: 8:00 AM – 5:00 PM
Saturday – Sunday: Closed
| | |
| --- | --- |
| Criteria | Score |
| Work Quality | ★★★☆☆ (3/5) |
| Service Range | ★★★★☆ (4/5) |
| Customer Service | ★★★★☆ (4/5) |
| Professionalism | ★★★★☆ (4/5) |
| Warranty | ★★★★★ (5/5) |
Ram Jack has branches all across the country. It has one in Marietta, Georgia that operates with the same drive and values for its customers.
It can solve problems for any type of foundation, be it for a domestic or commercial building, with its tried-and-proven solutions.
One such solution is helical piers, which involve installing large screw-shaped beams under a house. It will serve to level the base and stop the cracking from getting bigger.
Another popular service the company gets called for is sinkhole remediation.
This issue involves a part of your home sinking into the ground. They have a few solutions for this, which are void filling and compaction grouting.
And the third most popular service of theirs is the crawlspace dehumidifier. If your crawlspace is open to external air and moisture, they have an industry-grade dehumidifier to hinder air-contaminating fungal growth.
Apart from that, they have a superb warranty that lasts for the life of the foundation. And it's also transferrable, which can come in handy if you decide to sell your house further down the road.
Compared to other foundation repair experts, they specify the kind of financing they give their clients. One is the same-as-cash option where you pay no interest for a whole year, and the other is "reduced interest" in which you regularly pay less interest for five years.
While they have received some negative reviews in the past for their service, cleanup, and workmanship, recent clients appreciated Ram Jack for their work performed, honesty, and timeliness.
Also, it's easy to get in touch with them with their live chat function online. To get a quote from them, simply head on to their website and complete the form there, and the staff will reach out to you soon.
Certified and trained team
Has live chat support
Gives a lifetime transferrable warranty
Offers financing options
Complaints about their work and responsiveness
Doesn't accept credit cards
Closed on weekends
Customer Reviews
Prompt and professional staff
"Ram Jack responded to my request for a quote promptly and professionally. The project manager and the crew, headed up by Oreo, arrived on time, completed the work and cleaned up the area when they were finished. They made sure I was satisfied and kept me informed throughout their process. I would recommend Ram Jack as an exceptional service company! Everyone from the front office, the gentleman who quoted my project and the crew who performed the project were all first rate!" -Jan Parrish
Terrific foundation inspection service
"Very Professional and Honest *****
Rich came to our house to assess the foundation. He went above and beyond in his inspection. They were few minor cosmetic defect that he explained to us thoroughly. No pressure, no pushy salesman trying to sell you services you dont need. Let me tell you something, after my first experience, I do not second guess it if we need Ram Jack services in the future and Rich tells us we need anything!" – Ali Joon
5. Lifetime Basement Waterproofing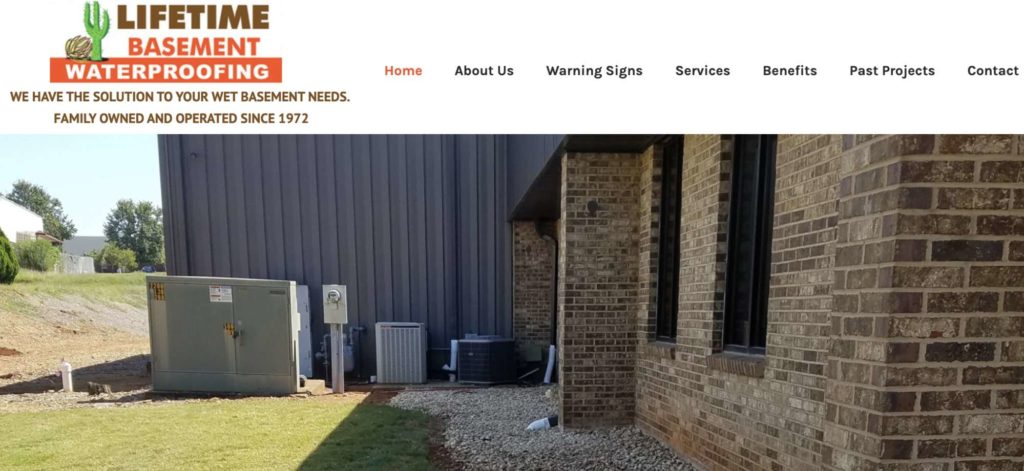 SERVICES
Foundation repair
Crack repair
Stonework
Drainage
Masonry work
Waterproofing solutions
WEBSITE
https://lifetimebasement.com/
ADDRESS
1230 Peachtree St NE Suite 1900, Atlanta, GA 30309 USA
CONTACT DETAILS
(770) 607-3838


[email protected]

OPERATING HOURS
Monday – Friday: 7:00 AM – 7:00 PM
Saturday: 7:00 AM – 5:00 PM
Sunday: Closed
| | |
| --- | --- |
| Criteria | Score |
| Work Quality | ★★★★★ (5/5) |
| Service Range | ★★★★☆ (4/5) |
| Customer Service | ★★★★★ (5/5) |
| Professionalism | ★★★★★ (5/5) |
| Warranty | ★★★★★ (5/5) |
When it comes to waterproofing your house to keep its foundation intact, Lifetime Basement Waterproofing is one of the top foundation repair contractors in Atlanta you can get.
Their office is located right in the heart of Atlanta. That means they're just minutes away from you if you're living in the area.
On top of other things, the company strives to deal with clients with honesty and courtesy. This is their formula for success, and it must have contributed to their perfect Google score.
It doesn't matter whether your wall is made of concrete or masonry, they can patch up the joint or area where there's a leak.
Besides that, their experienced team can install new foundations, retaining walls, pavements, pathways, etc. Along with that, they can implement means to protect against sudden leaks.
Whenever they do concrete projects, they always keep drainage in mind, being aware of how much damage water can cause. To counter this, they also put up catch basins for them.
Going to their downsides, they don't mention any financing options, but it won't hurt to call them for clarification on this.
However, they may make up for this with their lifetime transferrable warranty for waterproofing. This will keep your foundation in tip-top shape for many, many years.
To date, Lifetime Basement Waterproofing has successfully completed 60,000 projects since its formation in 1972.
Moreover, they've gathered many excellent reviews on different sites and platforms, so they can be a great choice for you!
Exceptional and qualified team
Waterproofing expert
Have completed over 60,000 projects
Gives a lifetime transferrable warranty
A+ rating from the BBB
Closed on Sundays
No live chat support
No mention of financing
Customer Reviews
Stabilized our foundation promptly
"Our basement was a wet and damp disaster. These guys came out and within 3 days had it waterproofed and stabilized our foundation. Would highly recommend." -Keith Lyons
Professional and trustworthy contractor
"I bought an old house and encountered very bad water leaking in the basement from 4 hidden foundation cracks. I got quite a few estimates but Seth's solution is very straight forward, easy to understand, makes most sense to me and his quote is very reasonable. He and his crews came on time worded hard each day and totally sealed the cracks and stopped the leaking. Also because our clogged house draining system, water seeping through the concrete floor. Seth suggested to build a indoor draining system. unknown to him the house has two unusual thick concrete brackets pass-through where the draining pipe was placed. This has made the draining system installation very difficult and about a square-foot area became damp when there was a heavy rain. Seth kept coming back to tackle the problem until get it solved. He never try to make excuses nor did he charge me one extra penny. He is one of the most professional, trust worth contractor I have ever worked with. (after two and a half years remodeling my house I have worked with many contractors)" -Hualin Qin
FAQs about the Top Foundation Repair in Atlanta
And that's all for the best foundation repair services in Atlanta.
Remember, before you decide on one, it's vital to know your home's situation, look at your chosen company's service offerings, check their costs and if they offer a warranty, and ask relevant questions.
Do you have any thoughts or questions about our list? If you have one, don't hesitate to send us a message and we'll get back to you as soon as we can.
Find Foundation Repair Services in Your Area