Plumbing is one of the main components of a house. It comprises everything from faucets to sump pumps, supplying us with clean water and draining it out from the basement.
If your tankless water heater or kitchen drain isn't performing well or there's an emergency like a sewer backup, we experience inconvenience and delays in our daily schedule.
That's why we listed the best options for plumbers in Tempe, Arizona for you here. We picked only those that are licensed and qualified, quick to respond, and have good customer care.
How much does hiring a plumber cost?
In Tempe, AZ, most plumbers charge clients a fixed price rather than a per-hour cost. Usually, the fixed price ranges between $45 and $165 depending on the kind of work performed.
The reason for this is that most services don't take an hour or more to finish, except for larger projects like drain pipe installation or removing an old water heater and replacing it with a new one.
But bear in mind that besides the labor cost, you have to pay the parts, equipment, emergency call-out, and other fees too.
Also, please refer below for the rates of common plumbing works that homeowners require. Note that this is the estimated total that you can pay already inclusive of parts, equipment, etc.
| | |
| --- | --- |
| Plumbing Work | Typical Cost |
| Toilet repair | $140 – $300 |
| Leaking or burst pipe repair | $150 – $350 |
| Drain clearing | $200 |
| Waterline repair | $300 – $4,000 |
| Water heater repair | $550 |
| Sewer main installation | $3,000 |
| Septic tank installation | $5,500 |
The Best Options for Plumbers in Tempe
Before we settled on our top companies for this list, we assessed and scored them based on certain parameters, which can be seen below and in each company entry later on.
1. ASAP Plumbing Services

SERVICES
Plumbing

Commercial
Backflow prevention
Garbage disposals
Faucets
Frozen pipes
Grease traps
Repipe
Pipe leaks
Leak detection
Slab leak repair
Toilets
Water lines
Sump pumps


Drains

Drain cleaning
Clogged drains
Hydro-jetting
Camera inspections
Sewer lines

WEBSITE
https://asapplumbingaz.com/
ADDRESS
1121 W Warner Rd #105, Tempe, AZ 85284
CONTACT DETAILS
480-336-9235


[email protected]

OPERATING HOURS
Open 24/7
| | |
| --- | --- |
| Parameter | Score |
| Skill | ★★★★☆ (4/5) |
| Professionalism | ★★★★☆ (4/5) |
| Responsiveness | ★★★★★ (5/5) |
| Availability | ★★★★★ (5/5) |
| Cost | ★★★☆☆ (3/5) |
Open 24 hours, 7 days a week, we like that ASAP Plumbing Services is there when you need them.
Their services cover most homeowner or businessman needs in plumbing, draining, and gas heating as well as water softeners and filtration systems.
Their plumbers are licensed, bonded, and insured, ensuring that their service meets industry standards. So in case they aren't able to do their work duty or have accidentally damaged your property, they can compensate for it.
Another differentiating factor is they offer finance plans for expensive plumbing works, say, installing a new water heater, sump pump, or sewer piping.
The company says they always show the customer a written estimate before proceeding with the work.
But some clients complained their prices were different from what was initially quoted. Additionally, these same people weren't content with their customer service.
We, therefore, recommend always checking with them before you agree to them servicing your plumbing. Also, have a look at their specials page because there are coupons there that you can avail of.
Overall, ASAP Plumbing Services is a great company if you want speed and efficiency in getting your plumbing issue resolved by friendly and skilled workers, as patrons can attest.
Licensed, bonded, and insured staff
Same-day service
Offers financing plans
Gives coupon discounts
Available 24/7
Guaranteed work
Expensive rates
Doesn't seem to have flood emergency services
Complaints about customer service
Customer Reviews
Honest, professional, and friendly staff
"Andrew and Jarrod arrived as expected. They were very honest, professional, and friendly. The install was done quickly and professionally. They made sure all was working properly and that the area where they worked was clean upon their finishing. I would recommend them and strongly suggest the company be sure to hold on to these gentlemen, as their work ethic, friendliness and professionalism are hard to find. I will definitely use ASAP for my plumbing needs and will always request Andrew and Jarrod!" -Joe Sardella
Great experience all around
"This is a fast reacting operation. They were able to guide me to turning off water to the unit. They had Drew at my door inside of 90 minutes and were able to resolve the issue. The following day they replaced our hot water heater. During the install his supervisor stopped by and helped out absolute professionals. Great team work. Great experience all around. Will be using ASAP Plumbing from now on." -Steven Lasater
2. Roto-Rooter Plumbing & Water Clean-Up

SERVICES
Plumbing & Drains

Drain cleaning
Emergency plumber
Toilet repair
Sewer lines & excavation
Faucet repair
Sink repair
Garbage disposal repair
Shower repair
Dishwasher installation
Video camera inspection
Leak repair
Washing machines
Pipes
Commercial
Water heater

Water Damage Restoration

Water damage cleanup
Water removal
Emergency flood services
Basement flooding
Clean-up
Mold remediation

WEBSITE
https://www.rotorooter.com/tempeaz/
ADDRESS
1729 W Greentree Dr #107, Tempe, AZ 85284
CONTACT DETAILS
+1 480-428-6336


[email protected]

OPERATING HOURS
Open 24/7
| | |
| --- | --- |
| Parameter | Score |
| Skill | ★★★★★ (5/5) |
| Professionalism | ★★★★☆ (4/5) |
| Responsiveness | ★★★☆☆ (3/5) |
| Availability | ★★★★★ (5/5) |
| Cost | ★★★★☆ (4/5) |
Founded in 1935 by Samuel Blanc, Roto-Rooter Plumbing and Clean-Up offers plumbing, drainage, and water damage restoration services.
Specifically, they work on water heater installation, leak repair, sink repair, shower repair, sewer line excavation, mold remediation, emergency flood service, and a lot more.
It had grown its operations from West Des Moines to the entire US nation and Canada plus franchises in different parts of the world.
Of course, its tradesmen are licensed and insured for your peace of mind. They not only assess and fix the problem but also make it a point to explain the situation to the client, which is important.
It doesn't matter if you call them at midnight or on a weekend or holiday, as they're available 24/7. And they don't charge extra to customers during these instances, unlike other businesses.
Their prices are a little bit high, though you can take advantage of their coupons. Currently, they give $50 off for any plumbing or drain cleaning service and $100 off for any water heater service, which will benefit first-time clients.
While they claim to offer finance options, they aren't indicated online, so you would have to inquire with them about this.
Besides that, booking with them is quick and easy. All you have to do is to visit their website, schedule an appointment, and then follow the simple procedures from there.
With a superb and insured team, quick online booking, and 24/7 availability, you can get value out of your money with their service. That's the reason we added them to our top plumbers in Tempe, Arizona list!
Specializes in water damage restoration
Licensed and insured tradesmen
Offer financing
Gives coupon discounts
Available 24/7
Guaranteed work
Finance options aren't indicated
Complaints about price and customer service
Customer Reviews
Excellent customer service
"I manage an apartment community in Phoenix and have used Roto Rooter for ages. Joe Rivera is hands down one of the best plumbers I've worked with! Excellent customer service and never has he left without fully resolving our issues. Today he saved the day again locating buried clean outs to access a sewer line and cleared out a large root intrusion while keeping the pipes intact. He is super with our residents while working. I can't say enough. Joe we appreciate all you do!" -Debra Vannotti
Did a great job for us
"Mason was honest, courteous and professional. We would ask for him to service our house if needed in the future. He did a great job for us, and we appreciated his technical expertise." -Dee Campbell
3. Plumbing Express

| | |
| --- | --- |
| SERVICES | Plumbing, drain, & gas services |
| WEBSITE | https://www.plumbingexpressaz.com/ |
| ADDRESS | 402 W Gemini Dr, Tempe, AZ 85283 |
| CONTACT DETAILS | +1 480-326-4507 |
| OPERATING HOURS | Open every day from 7:00 AM – 5:00 PM |
| | |
| --- | --- |
| Parameter | Score |
| Skill | ★★★★★ (5/5) |
| Professionalism | ★★★★★ (5/5) |
| Responsiveness | ★★★★☆ (4/5) |
| Availability | ★★★★☆ (4/5) |
| Cost | ★★★★☆ (4/5) |
For good old-fashioned service, we suggest calling Plumbing Express. They service mostly commercial and multi-house units in Tempe and other cities in Maricopa County.
Whether it be plumbing, gas, or drain install, maintenance, or repair you need—their bonded and certified team can do it.
A lot of customers gave them stellar reviews on different online platforms such as Google, Yelp, and Facebook.
They noted that the team was personable, efficient, hardworking, and timely. The plumbers did not only patch up the problem but cared for them by ensuring their needs were met.
And compared to other plumbers, they give out more discounts. This includes seniors, military, police, and emergency medical technician deals in addition to those for first-time and regular happy customers.
However, note that you can't use both their discount and coupon at the same time because it would be unfair to their business.
On top of that, they give their clients a satisfaction guarantee. In the event their service fails to meet your expectations, they'll promptly return to work on the problem.
Their normal working hours are from 7:00 AM to 5:00 PM daily, but they can also take on emergency work round the clock.
Oh, and you may wonder where you can book an appointment with them online, as it isn't shown on their homepage. From there, just click either the commercial or multi-house tab and then schedule an appointment.
Licensed, bonded, and insured staff
Provides emergency services
Offers senior, medical, police, and military discounts
Coupon deals available
Guaranteed work
Online booking isn't on their homepage
No finance options
Customer Reviews
Quick-acting plumber
"Wow! This company is so fast. They were out to our house immediately. I want to especially recognize Greg who explained our problem easily to me, dealt with people that were renting our house, & fixed our pipe quickly. He was courteous professional and a one of a kind hard worker. Thank you all so much." -Tamara Holm
Great and quick service
"Josh & Austin came to repair my bathroom sink, which was installed wrong by someone else. Great guys, great service and a job done very quick. So glad they were able to get me on the schedule. Thanks guys." –Mary Munsch
4. City Wide Plumbing & Service Co.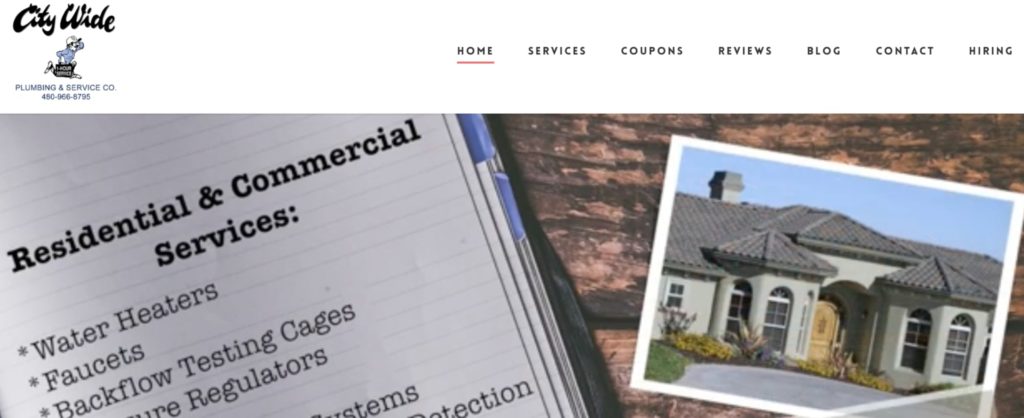 SERVICES
Bath & kitchen plumbing
Electric water heaters
Gas water heaters
Tankless water heaters
Garbage disposal repair
Reverse osmosis systems
Water softeners
WEBSITE
https://citywideplumbingaz.com/
ADDRESS
401 W Orion St, Tempe, AZ 85283
CONTACT DETAILS
+1 480-966-8795


[email protected]

OPERATING HOURS
Monday – Friday: 8:00 AM – 4:00 PM
Saturday: 8:00 AM – 1:00 PMSunday: closed
| | |
| --- | --- |
| Parameter | Score |
| Skill | ★★★★☆ (4/5) |
| Professionalism | ★★★☆☆ (3/5) |
| Responsiveness | ★★★★☆ (4/5) |
| Availability | ★★★☆☆ (3/5) |
| Cost | ★★★★☆ (4/5) |
City Wide Plumbing is a locally-owned plumber based in Tempe, Arizona. Its team is accredited by the State of Arizona Registrar of Contractors and carries bond and liability insurance.
The company has been around for exactly 40 years having been formed in 1982. Its services are residential and commercial plumbing, water heater replacement, toilets, faucets, and drain lines.
A reassuring thing about picking this service is they scored A+ from the Better Business Bureau, which is an average rating by clients for how good or bad the service is ever since they registered.
They promise that they give a written quote to clients first before charging that amount—no more and no less. So far, according to customers, they have kept their end of the bargain, as they charge decent prices.
Adding to this advantage is they donate a portion of their profits to charity, specifically, the Ronald Mcdonald House Charities.
They have a dedicated coupon page like most of Tempe's plumbers, but their deals are much less in comparison to other contractors.
Now, one downside of choosing their service is they don't have 24-hour emergency services. They only work from Monday to Saturday from 8:00 AM until 4:00 PM or 1:00 PM.
Another is they don't seem to offer a satisfaction guarantee that should ensure the work will be done to a high quality and to the client's satisfaction.
Licensed, bonded, and insured team
A+ rating from the BBB
Gives coupon deals
Donates to charity
No emergency services
Closed on a Sunday
No mention of a satisfaction guarantee
Customer Reviews
Have always done a great job
"They've always done a great job. Been using them for the better part of a decade." -Dave O'Grady
Very pleasant and professional worker
"Lou always does a fantastic job. Very pleasant and professional! Highly recommend!!" -Diane Clark
5. DC Family Plumbing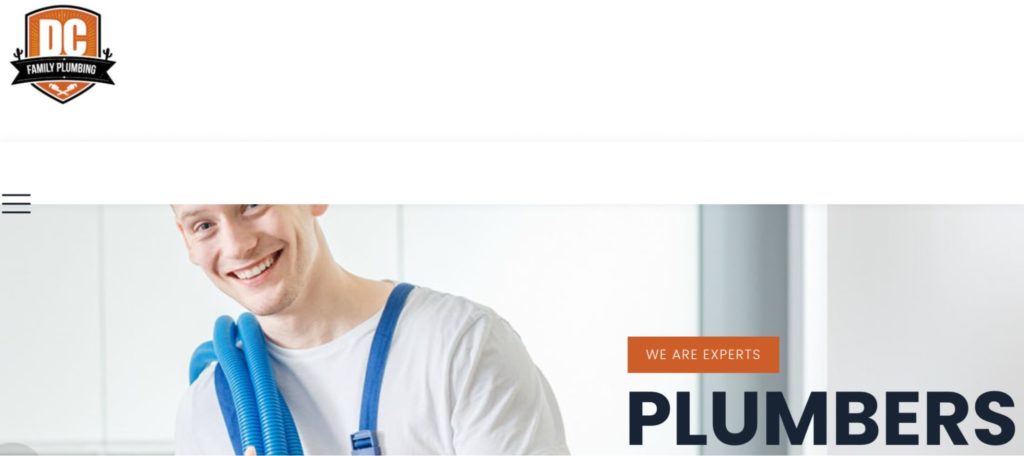 SERVICES
Drain cleaning
Toilet repair & replacement
Sump pump maintenance
Leaky faucet repair
Water heaters repair & replacement
Gas piping
WEBSITE
https://dcfamilyplumbing.com/
ADDRESS
1797 W University Dr, Tempe, AZ 85281
CONTACT DETAILS
+1 480-300-4791


[email protected]

OPERATING HOURS
Monday – Friday: 8:00 AM – 5:00 PM
Saturday: 9:00 AM – 5:00 PM
Sunday: closed
| | |
| --- | --- |
| Parameter | Score |
| Skill | ★★★★☆ (4/5) |
| Professionalism | ★★★★★ (5/5) |
| Responsiveness | ★★★★★ (5/5) |
| Availability | ★★★★☆ (4/5) |
| Cost | ★★★☆☆ (3/5) |
For more than a decade, DC Family Plumbing has been serving residential and business clients in the Valley. It offers a wide range of services from leaking pipe repair to gas water heater installation.
Its plumbers are certified and friendly, and many customers commend them for addressing their needs and concerns in a professional and respectful manner.
They have an online quote form if you want to get a rough price estimate of the job. You can very easily reach them via phone or email if that's more convenient for you.
No matter the time of the day, they can come to you with complete equipment and parts in their van to ensure a swift and effective solution to your plumbing issue. But they may charge extra since their normal business hours go from morning till just late afternoon six days a week.
Although it's great that they offer coupon deals, their values are less relative to other Arizona plumbers. Apart from that, no other discounts are available such as veteran or medical worker discounts.
Upon seeing their prices online, they're quite expensive. Nonetheless, it can be worth it given that most clients have lauded their workmanship and attitude.
Likewise, there's not a mention of a satisfaction guarantee on their website. To be sure, you can ring their representative when you obtain a quote from them.
So, if you are expecting a decent, quick service and have a bit of extra cash, then choosing DC Family Plumbing can be a good choice for you!
Licensed plumbers
Provides emergency services
A+ rating from the BBB
Gives coupon discounts
Normally closed on a Sunday
Expensive rates
No mention of a satisfaction guarantee
Customer Reviews
Done an excellent plumbing job
"Devon and his team replaced a motor for us on very short notice. They always do an excellent job and are very dependable. I wouldn't think of using any other plumber." -Larry Smith
Extremely nice, professional, and quick
"The first guy that came out was on time, extremely nice, professional and fast. He opted to send someone later when the water was back on for a quality check. The second guy was also over-the-top nice and provided options for payment. Paying online after the work was done was easy and convenient. I know I can always trust DC Family Plumbing due to the quality of their work and their service. Thanks guys!" -Brandy
H2: FAQs about the Top Plumbers in Tempe
And that concludes our list of the best plumbers in Tempe, AZ. Now you know which company to rely on if a plumbing issue arises.
Do you have any questions or comments about this list? Feel free to message us and we will get back to you as soon as we can.
Other than that, you may also need electrical help at your home or office. If that happens, you can also dial for the best electricians in Phoenix!
Other Related Articles