Heating, ventilation, and air conditioning (or HVAC) play a vital role in making our homes comfortable and safe particularly during the peak of hot summer and cold winter seasons.  We can easily do our tasks and jobs without worrying about the heat or cold when the HVAC works properly.  For this, we must always make the effort to maintain the system.  Even the littlest damage can be a big problem over time.  To avoid facing a greater dilemma, we should know the partners we can trust.
If you're currently living in Denver and in need help with your HVAC system, we highly recommend the following experts.  They're the best options for HVAC contractors in Denver, Colorado.
1. Applewood Plumbing Heating & Electric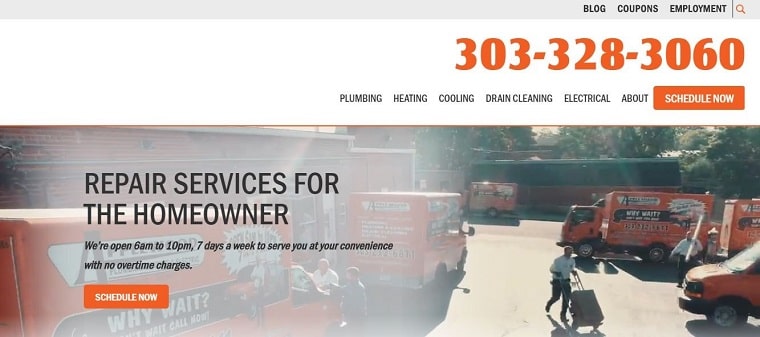 BEST FOR
Home improvement services
SERVICES
Heating and cooling services

Plumbing, drain cleaning, and electrical works

HVAC repairs and installations

Thermostat, humidifiers, and ductwork

ADDRESS
5000 W 29th Ave. Denver, CO 80212
CONTACT
Phone: (303) 328-3060

Email: [email protected]

WEBSITE
https://www.applewoodfixit.com/
Applewood Plumbing Heating & Electric, a family-owned and operated business, is one of Colorado's premier home improvement service providers.  The company is proudly serving Denver and Boulder for 45 years.  Its bright, clean orange truck is a symbol of professionalism and high-quality service which the customers expect from it.  The trucks are fully stocked with necessary materials that allow the company technicians to complete their required tasks.
2. Golden West Plumbing, Heating & Air Conditioning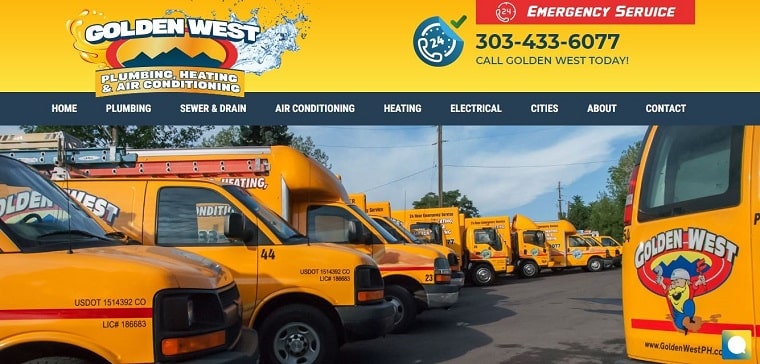 BEST FOR
Residential and commercial plumbing & HVAC services
SERVICES
Heating service and repair

Furnace service and repair

Water heater service and repair

Boiler service and repair

Tankless hot water heaters

AC service and repair

Sewer cleaning and repair

Drain cleaning and repair

Rooter service and repair

ADDRESS
4217 Delaware St., Denver, CO 80216
CONTACT
Phone: (303) 433-6077

Fax: (303) 455-3761

Email: [email protected]

WEBSITE
https://www.goldenwestph.com/
Golden West Plumbing, Heating & Air Conditioning, a family-owned and operated company, is an A+ rated business by the BBB (Better Business Bureau).  It offers first-class customer service at affordable rates to all residents and proprietors in Denver.  Why should you choose Golden West?
Master Plumber license
No overtime charges
24-hour emergency service
Highly experienced, trained, skilled, and licensed professional technicians
3. Swan Plumbing, Heating & Air of Denver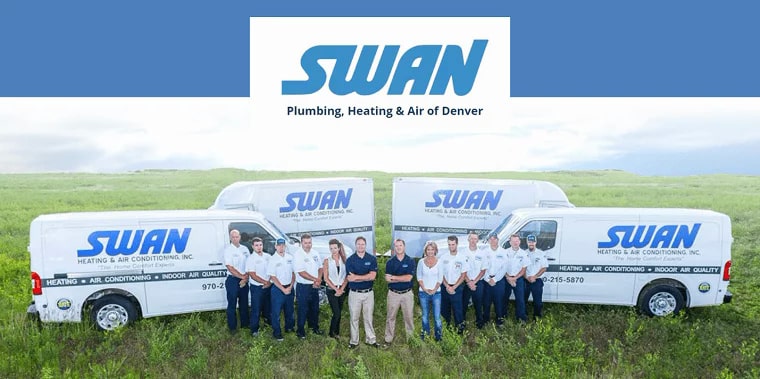 BEST FOR
Residential plumbing, heating, and air conditioning services
SERVICES
Furnace repair and replacement

Air conditioning installation and repair

Water heater installation and repair

Boiler installation and repair

Indoor air quality

Plumbing works

ADDRESS
6810 Broadway Unit N Denver, CO 80221
CONTACT
Phone: (303) 993-1406

Email: [email protected]

WEBSITE
https://swanheating.com/
The service technicians and master plumbers at SWAN are highly capable in providing full-line residential HVAC and plumbing services to their customers in the Denver Metro Area. Here are the reasons why you should consider hiring SWAN for your HVAC issues:
100% satisfaction guarantee
Upfront, honest, and transparent pricing
Prompt same-day service
Preventative measures at every job to ensure that work areas are kept clean
Professional and respectful licensed technicians
4. AirDuct Specialists, Inc.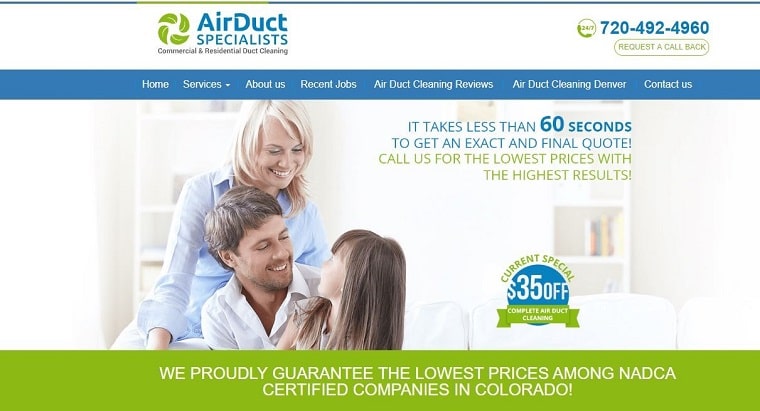 BEST FOR
Residential and commercial air duct cleaning
SERVICES
Furnace repair and cleaning

Dryer vent cleaning

UV-C Air purifiers

Air duct sanitizing

Electrostatic air filter

ADDRESS
1685 S Colorado Blvd Unit S # 307, Denver, CO, 80222-4011
CONTACT
Phone: (720) 492-4960
WEBSITE
https://www.air-duct-cleaning-denver.com/
AirDuct Specialists, Inc., a full-service air duct cleaning company, is a growing company comprised of experienced technicians who always strive for excellence in every work they do.  They incorporate their topnotch skills with high-end equipment to ensure 100% customer satisfaction.  The company is fully bonded and insured.  It also offers guarantees to all their work.
5. Altitude Comfort Heating and Air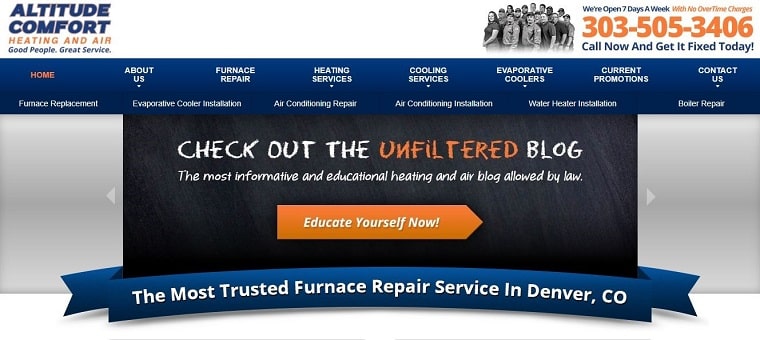 BEST FOR
Residential HVAC services
SERVICES
Furnace repair, replacement, and installation

Boiler repair

Water heater repair and installation

Evaporative cooler installation and repair

Air conditioning repair and installation

ADDRESS
3570 E 12th Ave #183, Denver, CO 80206
CONTACT
Phone: (303) 505-3406

Email: [email protected]

WEBSITE
https://www.altitudecomfort.com/
Altitude Comfort Heating and Air was built on a simple statement— It's100% right or it's100% free.  Here are the top reasons why Altitude is one of Denver's most trusted names when it comes to heating and air conditioning services:
Fast, reliable heating and air service
100% satisfaction guarantee in writing
Upfront, easy-to-understand pricing (no surprise charges or hidden fees)
Professional HVAC installations and repairs
Flexible HVAC financing
6. Just Chill Mechanical
| | |
| --- | --- |
| BEST FOR | Denver, Broomfield and Littleton's Best HVAC Contractor |
| SERVICES | Commercial HVAC, Air Conditioning, Furnaces, Boilers, Heat Pumps, Commercial Refrigeration, and Residential Refrigeration |
| ADDRESS | Broomfield, CO 80020 |
| CONTACT | 720-432-9494 |
| WEBSITE | https://justchillmechanical.com/ |
Just Chill Mechanical specializes in providing full spectrum heating, ventilation, air conditioning and refrigeration repairs and installations. They're the experts in the field of HVAC services and have proven to be a trusted source after many years of providing high-quality work to their customers.
7. Service Experts Heating, Air Conditioning & Plumbing
BEST FOR
AC repair and plumbing services
SERVICES
Furnace sales, maintenance, repair, and installation

Boilers and air handlers

Heat pumps and packaged systems

Mini-split systems

AC sales, repair, maintenance, and installation

Solar AC

Residential and commercial services

ADDRESS
7000 N Broadway, Bldg 1 #100, Denver, Colorado 80221
CONTACT
Phone: (303) 647-5853

Email: [email protected]

WEBSITE
https://denver.serviceexperts.com/
Service Experts was founded with the determination of providing customers with first-class heating and cooling practices in the field of home improvement. Since its establishment, the company has been focused on community, offering the finest HVAC products and services in the area.  For more information, feel free to give them a call or schedule an appointment via the company's website.
8. 1st Choice Mechanical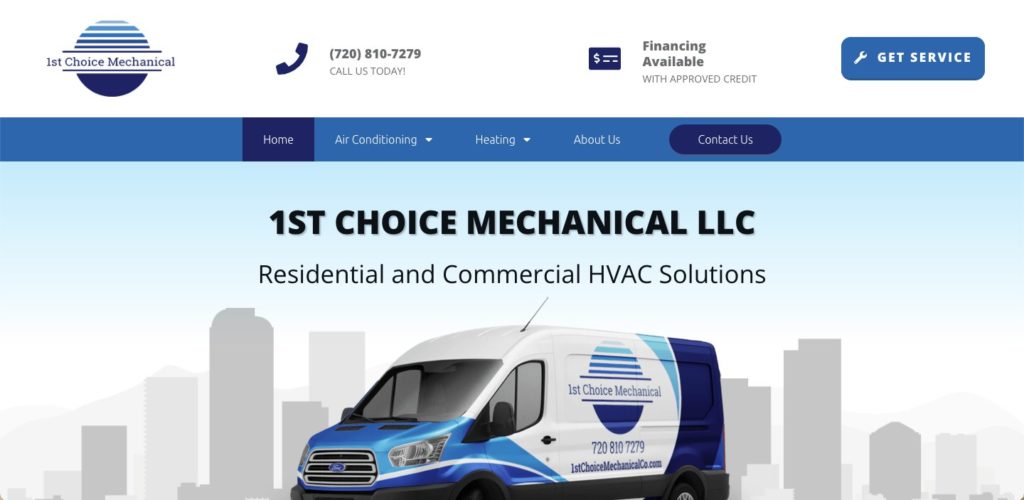 | | |
| --- | --- |
| BEST FOR | AC and Heating Services |
| SERVICES | AC & Heating Repair, Installation & Service |
| ADDRESS | 6232 Beach St Unit A6, Denver, Colorado, 80221 |
| CONTACT | (720) 810 7279 |
| WEBSITE | https://1stchoicemechanicalco.com/ |
1st Choice Mechanical has been serving the Denver, CO area and providing homeowners with excellent quality AC and heating services since 2006, but their family and locally-owned company have a combined experience of 50 years. They have a complete selection of both residential and commercial AC products and services. Whatever the size of the place, they're ready to service it. A great thing about them is that they offer a free quote for their services or for appointment requests. If you're convinced, you may contact them through their website and let them know what you need.