Do you have power, wiring, lighting or any electrical issues at home or your business premises?  Or perhaps, you need to set up a security system?
All of these can be done by your local professional electricians.  Don't worry… if you need an electrician, San Francisco has six premier electricians in the area.  These companies have been tried and tested by San Francisco residents throughout the years.
You don't have to search for each of them anymore. Below are the names and specifics of the said companies.  Continue to read to know them.
1. Brookline Aries Electric Co.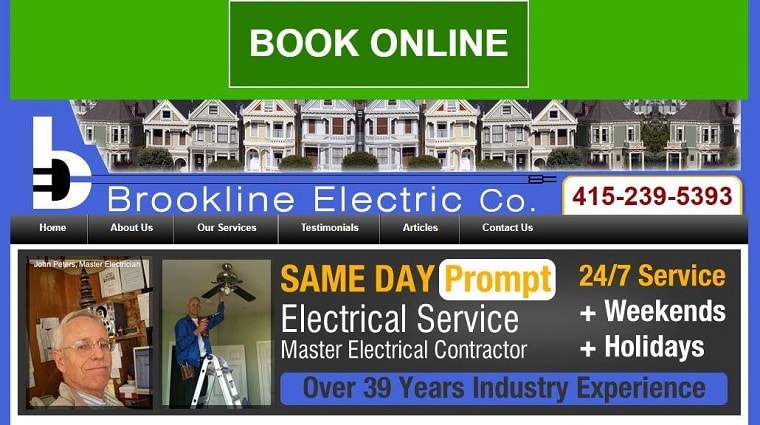 BEST FOR
Residential rewiring services
SERVICES
Electric repairs

Flickering lights repairs

Outlets and switches

Panel upgrades

Emergency repairs

Commercial installations

Grounding plug outlets

AFCI upgrades

ADDRESS
San Francisco, CA 94112-1929
CONTACT
Phone: (415) 239-5393

Email: [email protected]

WEBSITE
https://www.brooklineelectric.com/
If you need a fast and reliable electrician, San Francisco gives you Brookline Aries Electric Co.  It has been providing San Francisco residents quality electrical services for over 39 years.  Why should you hire Brookline Aries Electric Co.?
Master California electrician
Fully licensed and insured electrical contractor
Same-day service, 24/7 service (including weekends and holidays)
2. Pauric Electric San Francisco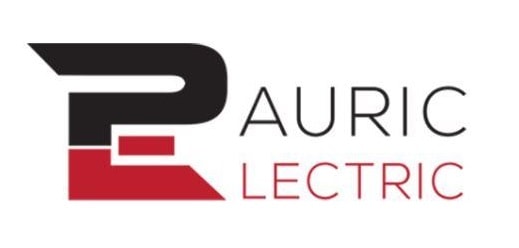 BEST FOR
Residential and commercial electrical services
SERVICES
Electrical set-up & re-wiring for homes

Electrical outlet installation & repair

Ceiling fan installation & replacement

Thermal imaging

Emergency and backup generator installation

Home systems

Emergency generators

Electrical vehicle charging station

Inspections and wiring

ADDRESS
2288 Fulton St. San Francisco, California 94117 United States
CONTACT
Phone: (415) 234-0839

Email: [email protected]

WEBSITE
https://thesfelectrician.com/
Founded in 2008, Pauric Electric San Francisco started with the aim to cover the demand for small jobs.  Since then, the business grew and now offers a complete suite of electrical services.  Because of its deep dedication to the residents of San Francisco, Pauric Electric is always listed as one of the best electricians in the area.  Give them a call if you're interested in availing their service.
3. Urban Energy Inc.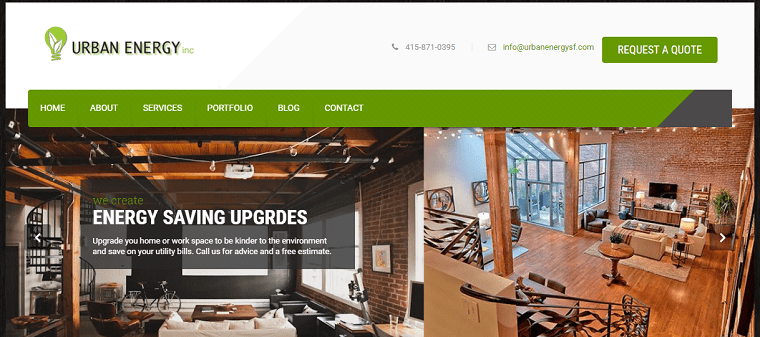 BEST FOR
Residential, commercial, and industrial electrical services

Energy-saving services

Home automation

Lighting and design services

SERVICES
Energy efficiency upgrades with SF energy watch

Installation of emergency systems-generator-UPS

Parking lot & site lighting installations & repair

Upgrades and repairs to existing electrical wiring

Fan and ventilation installation

Tenant improvement

Upgrades to office work-space

ADDRESS
2186 Palou Avenue, Suite 324, San Francisco, California, 94107
CONTACT
Phone: (415) 871-0395

Email: [email protected]

WEBSITE
https://www.urbanenergysf.com/
For energy-saving upgrades and full electrical services, Urban Energy Inc. is the best electrician San Francisco has to offer.  With 20 years of expertise, the company understands how collaboration and workmanship generate reputation and caliber.  For a free quotation, head to this link and answer their online query form.
4. BV Electric Inc.

BEST FOR
Residential electrical services
SERVICES
Emergency services

Backup power

Circuit breaker replacement

Code compliance

Electric and Breaker Panel Upgrades

Electric heat, ranges & dryer installation

Energy-saving lighting solutions

Underground wiring

Whole-home surge protection

Wiring upgrades

ADDRESS
2400 Taraval, San Francisco, CA 94116
CONTACT
Phone: (415) 666-9990

Fax: (415) 666-9990

Email: [email protected]

WEBSITE
https://www.bvelectricinc.com/
The electricians at BV Electric Inc. are fully trained experts to address any residential electrical needs.  It's a full-service company that values your time, home, and money.  Below are the reasons why you need BV Electric Inc. as your professional electrician:
24/7 callout
Fast and prompt response
Fully qualified and licensed electricians
All work guaranteed
5. GeneralSF

BEST FOR
Residential and commercial construction services
SERVICES
Remodels and new construction

Grounding and bonding

GFCI outlets and additional outlets

Electric garage door openers

Electric meter upgrades

Electric panel upgrades and fuse box conversions

Electric panel alarm systems and phone/TV cable/Cat. 5 wiring

Whole-house rewiring and whole house electrical safety inspection

ADDRESS
3624 Irving St Suite A, San Francisco, CA 94122, United States
CONTACT
Phone: (650) 303-1515
WEBSITE
https://www.generalsf.com/
GeneralSF has been building top quality structures for nearly two decades.  It was founded by a team of aspiring professionals back in 1991.  Since then, it has acquired relevant knowledge and expertise to meet the clients' needs.  GeneralSF guarantees:
Integrity, honesty, and great value
On-time completion of tasks or projects
Cost-efficient process from start to finish
Final result exceeds customer expectations
6. BIT Electrical Inc.
BEST FOR
A wide range of construction services
SERVICES
reElectrical Installations & Repairs

Wiring & Rewiring

Electrical Design

Electrical Audits

Panel Replacements

Other Commercial & Residential Services

ADDRESS
Daly City, CA 94015
CONTACT
Phone: 415-810-2843
Fax: 650-763-1178
Email:

[email protected]

WEBSITE
https://www.bit-electrical.com/
BIT Electrical, Inc. provides a complete range of electrical services for residential, commercial and industrial clients throughout the Greater Bay Area. They maintain a staff of highly skilled technicians, all of whom are trained to keep up with the latest advancements in the electrical industry. Everyone who works for theory company possesses years of on-the-job experience.
7. Coil Electric

BEST FOR
Renewable Energy
SERVICES
EV Chargers and Energy Storage
Enterprise Services and Level 3 Charging
Commercial and Engineering
Multi-Unit and Residential
Electrical
Data and Low Voltage
Desgin and Engineering
ADDRESS
1307 Hayes Street San Francisco, CA 94117

10250 Santa Monica Blvd Los Angeles, CA 90067

1517 L Street Sacramento, CA 95814

CONTACT
San Francisco
415-779-3022

Los Angeles
323-652-4841

Sacramento
916-302-7337

WEBSITE
https://www.coilelectric.com/
It is time to consider Coil Electric as your one-stop- electrical service provider. What's great about them is that they provide a full range of electrical services and their focus is on renewable energy.
Aside from this, they can serve commercial and residential customers. Additionally, they have and offer all the services anyone can need.
Available on their page are the detailed capabilities of their professional team. From EV charging, panel upgrades and installations, outlets and wirings to light installation, industrial works, and energy management, they got your back.
We can recommend them because of how fast and transparent they work. You will be able to get a quote almost instantly and the expenes will be discussed using simpler terms for easy understanding.