Electricity plays an important role in our daily lives. For others, it's a matter-of-life-and-death kind of requirement.
Knowing where to find the most reliable electricians in our area makes a difference. It saves us time, money, and effort when it comes to fixing our electrical issues. For this need, we're providing you the record for the most outstanding electricians Des Moines has to offer.
So, without further blah-blah, here are the six best electrical service providers in the area:
1. Lazer Home Services

BEST FOR
Electrical, plumbing, and HVAC services
SERVICES
Panel upgrades

Surge protection

Smoke detector installations

Electrical repairs

ADDRESS
6806 SE Bellagio Ct. Suite 102 Ankeny, IA 50021
CONTACT
Phone: (515) 259-1152
WEBSITE
https://www.lazerhomeservices.com
Lazer Home Services has been providing thousands of clients in Des Moines with quality electrical (as well as other home care) services since 2001. It offers:
100% customer satisfaction
No-haggle, no-hassle prompt service
Same-day service availability
Friendly and reliable professional electricians
Great financing options
2. Integra Electrical

BEST FOR
Domestic electrical services
SERVICES
Electrical code upgrade

Surge protection

Home rewiring

Lighting repair and installation

Tripped breakers

Electrical troubleshooting

Smoke detection services

Electrical inspections

ADDRESS
207 North Buxton Street, Indianola, IA 50125
CONTACT
Phone: (515) 361-7443

Email: [email protected]

WEBSITE
https://integraelectrical.co/
Integra Electrical believes that safety and affordability shouldn't be compromised. For this, the company consistently provides customized electrical solutions for Des Moines homeowners and businesses. Integra Electrical provides:
24/7 response all year round
100% satisfaction guarantee
Award-winning services and top-notch workmanship
Clean-cut professional electricians
3. Wireone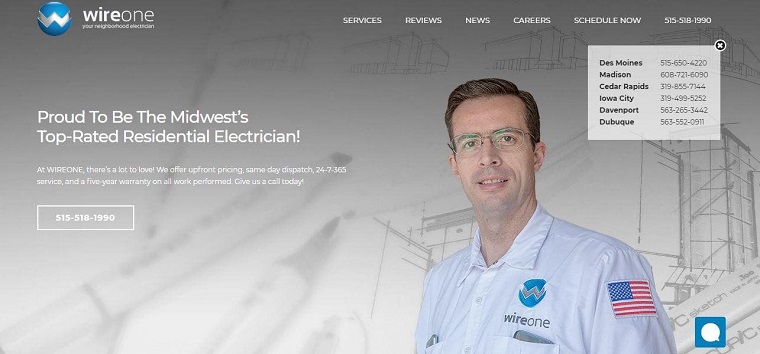 BEST FOR
Residential electrical services
SERVICES
Emergency services

Electrical troubleshooting services and repairs

Outlet repair and replacement

Ceiling fan and lighting replacement

Electrical safety inspection

Panel upgrades

Low voltage lighting

Quality lighting installation

Standby generations

ADDRESS
5161 Maple Dr, Des Moines, IA
CONTACT
Phone: (515) 518-1990

Email: [email protected]

WEBSITE
https://www.wireoneelectric.com/
Wireone is one of the top electricians Des Moines homeowners have highly approved. Its team of experts are highly trained and experienced to tackle your electrical issues. Wireone offers:
24/7 electrical service
Same-day dispatch
Guaranteed pricing
5-year warranty on all work
4. Mr. Electric of Central Iowa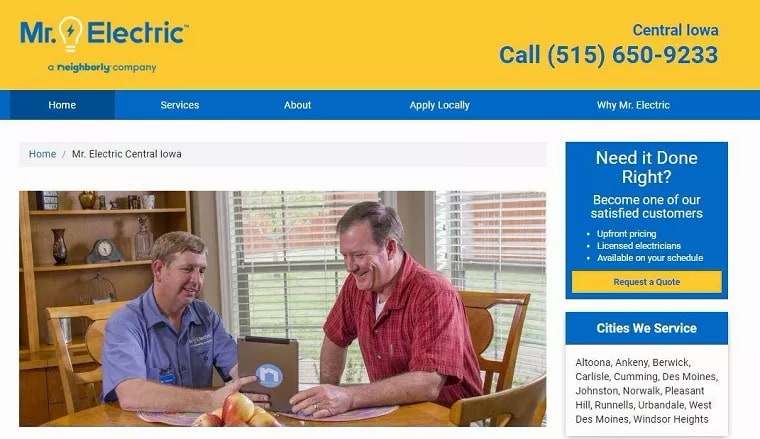 BEST FOR
Residential and commercial electrical services
SERVICES
Childproof outlets

Dedicated computer circuitry
Surge protection

Commercial energy audits

Lighting

EV chargers and generators

Commercial services

ADDRESS
699 Walnut Street Suite 400 | Des Moines, IA 50309
CONTACT
Phone: (515) 650-9233
WEBSITE
https://mrelectric.com/central-iowa
Mr. Electric, a global franchise organization, was established in 1994. Since then, it has provided quality customer services, workmanship, and cultivated long-lasting relationship with its residential and commercial clients. Here's what Mr. Electric has to offer:
Polite and respectful uniformed professionals
Background-checked professionals
Exclusive partners with Electric Safety foundation
Priority scheduling and members-only specials
Wide range of products and service
5. Custom Electrical Services

BEST FOR
Residential and commercial electrical services
SERVICES
New Construction wiring

Old home wiring experts

Remodels

Service calls, repair, emergency service

Childproof or tamper-resistant plugs

Preventative maintenance and inspections

Green products or energy-saving product

Commercial services

ADDRESS
1975 NW 92nd Ct, Suite 9, Clive, IA 50325
CONTACT
Phone: (515) 368-8965

Email: [email protected]

WEBSITE
http://www.customelectricalia.com
Custom Electrical Services is Central Iowa's residential and commercial electrical specialists. It was founded by Ron Mealy in 2005 with the mission to make the company a go-to electrical contractor in Des Moines.
Custom Electrical Services has 200 years of combined experience. It can provide:
5-year warranty to all work
Background-checked, drug-tested, and licensed electricians
24/7 electrical services
Licensed, bonded, and insured master electricians
Dedicated customer service and electrical excellence
6. Kline Electric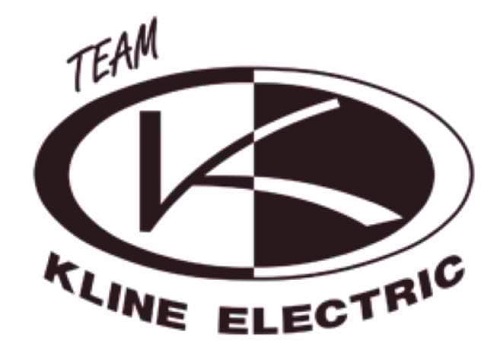 BEST FOR
Residential and commercial electrical services
SERVICES
New construction

Panel repair and upgrades

Generators

Dimmer controls

Lighting systems

Shading systems

ADDRESS
6355 NE 14th Street, Des Moines, Iowa, 50313
CONTACT
Phone: (515) 963-1101
WEBSITE
https://www.klineelectric.com
In 2004, Shane Kline established Kline Electric with the goal to provide customers the best product and service available. Now, Kline Electric is a powerhouse in the electrical industry, working on diverse projects from homes to large institutions. It employs over 100 employees and has 12 years of cultivating quality relationships with people in Des Moines.