Have you ever experienced having trouble with your electricity at home? No lights, no AC, no Wi-Fi (hears screams here), no electric Galway appliances… and NO ANYTHING (well that's an exaggeration but it pretty sums up the problem)!
This is why our friendly neighborhood electricians should be considered heroes.  Trustworthy, on-time, reliable, and well-trained—these experts can easily troubleshoot our electrical issues.  So, who do you call when electrical problems come up?
Since we want you to patch the problems right away, here's our list of the most reliable electrical experts in Galway.  Read on… don't be shy!
1. Tom Hernon Electrical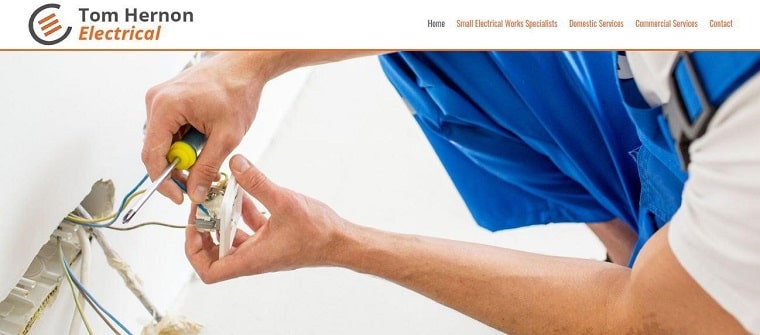 BEST FOR
Small electrical works
SERVICES
Domestic, industrial, and commercial electrical services

Electrical certificates

Late callout emergency service

Attic conversions

Lights, phone lines, fuse boxes, sockets, doorbells, security lights, etc.

Electrical installations

Rewiring

Storage heating

ADDRESS
Wellpark, Galway, Ireland
CONTACT
Phone: 08528-51700

Email: [email protected]

WEBSITE
http://www.tomhernonelectric.ie/
Headquartered in Galway, Tom Hernon Electrical has been providing full-range electrical services for over 25 years.  Here are the top reasons why you should consider hiring Tom Hernon Electrical:
Immediate response, always available to take calls
Prompt and on-time response
Fully insured and all work guaranteed
Fully trained, certified, and uniformed staff
Free estimates
2. Gerard O'Brien Electrical Contractor
BEST FOR
Domestic and commercial electrical services
SERVICES
Data cabling

Emergency lighting

Fire alarm

Emergency electrical services

New builds and extensions

Rewires

Maintenance

Reconnection certification

ADDRESS
Unit 6, Racecourse Business Park, Galway, Ireland
CONTACT
Phone: 087- 2592008

Email: [email protected]

WEBSITE
http://www.gerardobrienelectrical.com/
Gerard O'Brien Electrical Contractor was established in 1989 with the mission to provide top-notch electrical services in Galway.  The company has what it takes to carry out the work you need with guaranteed quality workmanship.  It is also part of the RECI and Safe Electric, making sure that you only receive the highest standards of electrical services.  Why choose Gerard O'Brien for your electrical needs?
No obligation quotations and chat service
Guaranteed workmanship
Experienced contractors
On-time, on-budget work
3. BEST Electrical, Fire & Security

BEST FOR
Electrical, Fire, Security, and Green Energy Services
SERVICES
New electrical installations (domestic, commercial, industrial)
Extensions and conversions
Electrical repairs and maintenance
Fire alarm systems
Security lighting
Emergency lighting (comes on during power cuts)
Data network cabling
Solar PV systems (electric solar panels)
Micro-wind turbine systems
LED lighting conversions (95% cheaper to run)
Smart electric central heating system (smartphone controlled)
Smart home, smart business! (control your home or business from your phone)
Standby generator systems/uninterruptable power supplies
1 phase to 3 phase convertors (run 3 phase equipment on 1 phase supply)
Automation systems and control systems
Electric vehicle charging points
Smart alarms/smart cameras (monitor your home or business direct to your phone)
Lightning and voltage surge protection
Emergency call-out service (by arrangement)
TV/satellite systems, free-to-view system (home cinema/multi-room music systems)
ADDRESS
Porridgetown, Oughterard, Galway
CONTACT
Mobile: 086 053 2534Email:

[email protected]

WEBSITE
http://galwayelectricians.com/
BEST Electrical, Fire & Security specializes in all types of electrical work in homes and businesses from small single phase supplies in houses to large complex three phase installations in factories. All work is carried out in accordance with the latest Electrical Regulations.
With over thirty years of experience, they offer a professional and quality service. They can design your installation or system incorporating the very latest SMART technology that allows you to monitor and control your home, business, plant, equipment, and property direct from your SMART phone, tablet, or PC and from any location on the planet.
4. KM Electrical

BEST FOR
Domestic, commercial, and industrial electrical services
SERVICES
Electrical installations and maintenance

Light fittings

Electric Galway showers

Complete rewires

Outdoor lighting

Commercial and industrial services

ADDRESS
Unit 52A, N17 Business Park, Tuam, Co.Galway
CONTACT
Mobile: 087-065-5377

Email: [email protected]

WEBSITE
https://km-electrical.ie/
KM Electrical, a registered electrical contractor, has been serving Galway since 2016.  While it's still a young company,   KM Electrical has proven to be highly capable of executing top quality services by the latest electrical rules and regulations of Galway.  Why choose KM Electrical?
Free advice
Tailored, cost-efficient electrical services
Punctual professional electricians
Full quality control and quality assurance
5. Martin Forde Electrical

BEST FOR
Commercial and industrial electrical services
SERVICES
Emergency lighting

Data cabling

Fire alarms

Periodic inspection

Maintenance

Electrical design

Free electrical consultation

ADDRESS
Unit 8 Abhainn Na Ri, Oranmore, Co. Galway
CONTACT
Phone.: (087) 2981-939

Email: [email protected]

WEBSITE
http://www.martinfordeelectrical.ie/contact.php
If your business or workplace needs quality electrical services, Martin Forde Electrical is the right electrical service provider for you.  It has been serving Galway and surrounding areas since 2001.  Martin Forde has worked on prestigious businesses and institutions like:
Borrisokane Community College
AIT International Arena
Portumna Retirement Village
Walsh Waste
Koh Restaurant
Zimmer Orthopaedics
Loughrea Day Center, Brothers of Charity
6. Oliver Mullen Electrical Contractor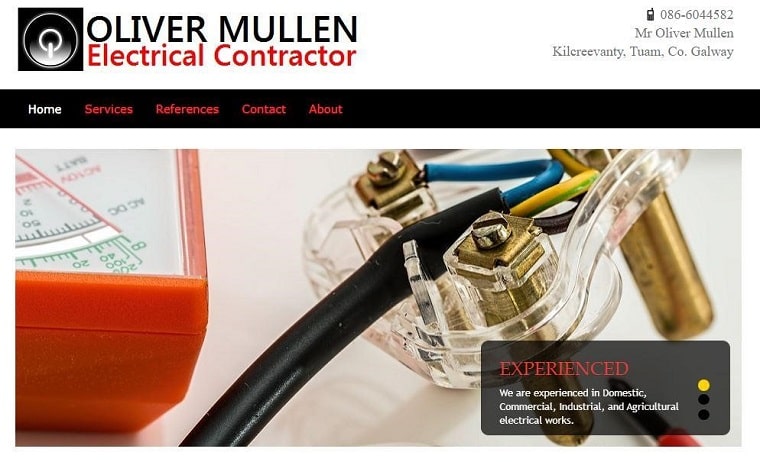 BEST FOR
Domestic, commercial, and industrial electrical services
SERVICES
Electric Galway gates and intercom automation

Test and certification

Fire alarms system

Emergency lighting

Electrical maintenance

ADDRESS
Kilcreevanty, Tuam, Co. Galway
CONTACT
Mobile: 086-6044582

Email: [email protected]

WEBSITE
http://electricalcontractors.ie/
Oliver Mullen Electrical Contractor has been providing Galway and the entire western region with quality electrical services since its inception 15 years ago.  According to the company, its key to success is their excellent customer service.  Its team of friendly professional electricians can deliver on-time and cost-efficient services to clients in domestic, commercial, industrial, and agricultural sectors.