If you're dreaming of having a perfect office space or home, know that your furniture pieces, wall panelling, and even storage units are important things you should focus on. Having the best kind of these items will make your space even more visually appealing. Unfortunately, the right items for your property may not always be available in local shops near you. And in that case, you can rely on a carpenter to build anything you want to add to your space.
If you're also thinking of starting a renovation, extension, or loft conversion project, experienced carpenters are still the best people to seek help from. This is because they have the expertise to bring your vision to life and create the space you've always dreamt of. The services offered by these 6 best carpenters in Bristol will help you further understand how they can be of great help to your next project, so check them out!
1.     Clifton Carpentry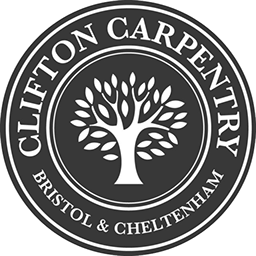 Best For
Bespoke Furniture
Services Offered
Bedroom furniture

Joinery

Fitted furniture

Custom storage solutions

Handmade kitchens

Hand and spray painting

Address
Flat 1, 1 The Park

Cheltenham, Gloucestershire GL50 2SL

Contact Information
07531 621320
Website
https://www.cliftoncarpentry.co.uk/
If adding a handmade kitchen and bespoke furniture to your home sounds appealing, then you should get in touch with Clifton Carpentry today. From start to finish, their team will help you with design and construction, ensuring that the final work will match your needs, preferences, and overall home interior. Functionality and aesthetics are always in the heart of their work, so you can be sure to have fixtures that will increase the value and appeal of your property.
2.     Redland Carpentry
Best For
General Carpentry Work
Services Offered
Kitchens, cabinets, and flooring

Joinery and site carpentry

Renovations, extensions, and loft conversions

Storage solutions

Bespoke furniture

Decking and fencing

Address
6 Clyde Park, Redland. Bristol. BS6 6RR
Contact Information
0781 363 6342
Website
https://www.redlandcarpentry.co.uk/
For general carpentry services, Redland Carpentry is a good choice of company. They have already spent over 40 years in helping Bristol residents with their various carpentry needs. So now, they can do anything from loft conversions, extensions, renovations to bespoke furniture creation. All of these are done with precise carpentry skills and a high level of professionalism, providing you with great results and excellent service that you deserve.
3.     Beeline Carpentry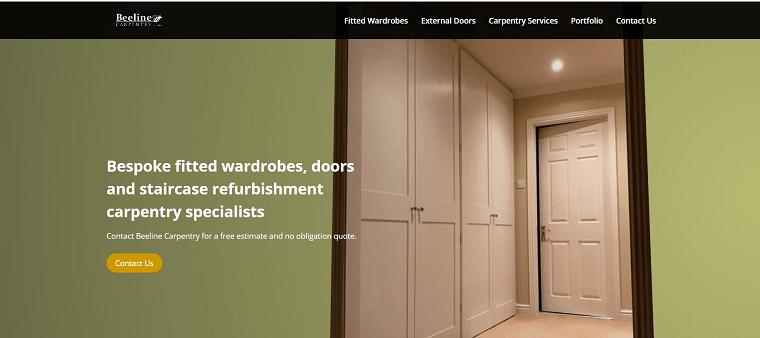 Best For
Bespoke, Fitted Furniture
Services Offered
Fitted wardrobes

External doors

Staircase refurbishments

General carpentry work

Wall panelling

Alcove/storage units

Address
111 Lower Redland Road,

Redland, Bristol, BS6 6SW

Contact Information
(01179) 467 797; 07831 344 041
Website
https://www.beelinecarpentry.com/
Want to fit a new, bespoke wardrobe? Thinking to refurbish your staircase? Need new exterior and interior doors? No matter what you need to enhance the overall look and value of your home, Beeline Carpentry has the right solutions and services. They will consider your existing interior decoration, surroundings and exact specifications to deliver furniture pieces that would match, if not exceed, your expectations. Need more information about how they work? Check out the testimonials of their past clients at https://www.beelinecarpentry.com/.
4.    George Anthony Carpentry
Best For
First-rate carpentry and building services
Services Offered
Kitchen fitting

Doors and window fitting

Flooring

Staircases

Skirting

Architrave

Cupboards

Wardrobes

Roofs and floor joists

Address
Bristol, United Kingdom
Contact Information
Tel: 07970635616

Email: [email protected]

Website
https://www.ga-carpenterbristol.com/
George Anthony Carpentry provides carpentry and building services in Bristol. Over the years, George has gained notable residential carpentry experiences and insights that has helped him improve his services. He recently passed the exam for the Chartered Institute Of Builders (CIOB) and is now going through his professional review to become a Member of the CIOB. Rest easy knowing that your construction or renovation project is in good hands.
5.     JS Carpentry and Build

Best For
General Building and Carpentry Services
Services Offered
Extensions and house renovations

Kitchens and outdoor spaces

Period renovations

General carpentry and joinery work

Address
51 Chelsea Park, Bristol, BS5 6AH
Contact Information
07970 693964; 01179 394731
Website
https://jscarpentryandbuild.co.uk/
JS Carpentry and Build's extensive experience in providing carpentry and building services is their main tool in ensuring that every project they handle is completed with excellence. They can complete carpentry jobs in less than a day, depending on their scope and complexity. Here are some of the things they can do for you: new kitchen installation, roofing and flooring work, house renovations, building of outdoor spaces, and custom-built furniture.
6.    Byatt Property Services LTD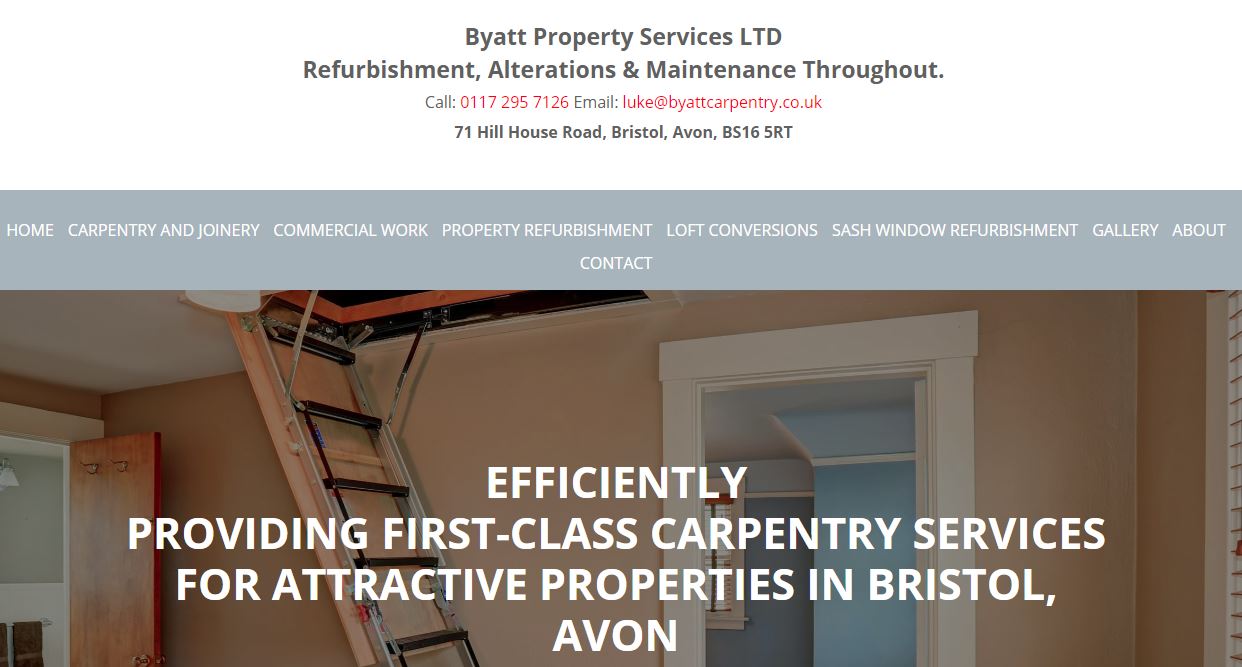 Best For
Refurbishment, Alterations & Maintenance
Services Offered
Carpentry and joinery
Commercial work
Property refurbishment
Loft conversions
Sash window refurbishment
Address
71 Hill House Road, Bristol, Avon, BS16 5RT
Contact Information
0117 295 7126 | [email protected]
Website
https://www.byattpropertyservices.co.uk/
For more than 50 years, Byatt Property Services Ltd, in Bristol, Avon, has skilled tradesmen who have delivered expert carpentry services, property refurbishments, and building solutions to loyal clients, including a proactive approach to project management. As a reputable company, they offer exceptional value for money, first-class workmanship, and visually striking results.
7.     House Martin Carpentry

Best For
General Carpentry Work
Services Offered
Domestic carpentry

Kitchen fitting and shelving

Sash window refurbishment

Decking and fencing

Victorian restoration

General maintenance

Address
127 North Rd, Bristol BS6 5AH, United Kingdom
Contact Information
0117 9504112; 07958 529341
Website
http://housemartin.homestead.com/
Martin Roscoe, the man behind House Martin Carpentry, is known for his capacity and expertise in handling interior and exterior carpentry projects. By working with him, rest assured that you will be provided with good craftsmanship and professional overall service. His flexibility in carpentry work cannot be denied as he can handle various tasks including kitchen fitting, sash window refurbishment, decking and fencing, shelving, general maintenance, and a lot more.
8.     Hot Soup House
Best For
Home to Bristol's best creatives, carpenters, and designers
Services Offered
Commercial space

Workshop membership

Carpentry

Arts & design

Woodwork courses

Address
16, White house Place Bristol, United Kingdom
Contact Information
Tel: +44 7759 482987

Email: [email protected]

Website
https://hotsouphouse.com/
Hot Soup House is a design studio and workshop headed by Russ Henry. The space is built for carpenters, woodworkers, creatives, and designers to build their businesses and even collaborate. Through the years, Hot Soup House has partnered with some of the UK's biggest festivals, Bristol's coolest bars, high end architects, and the world's best fashion designers to create unique sets, stages, and furniture and window displays.
9.     Marc Mackay Carpentry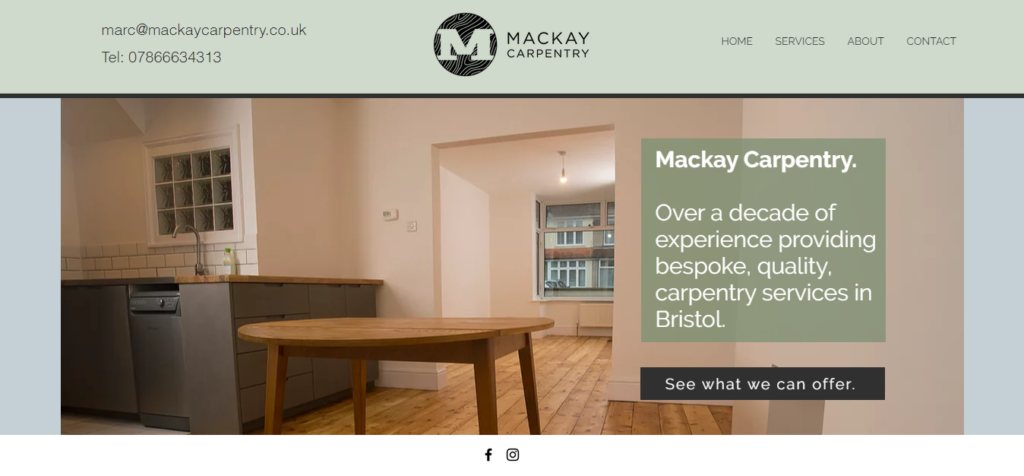 Best For
Carpentry Services
Services Offered
Kitchen
Fitted Furniture and Cabinetry
Interior Renovations
Outbuildings and Extensions
Address
8 The Yard
St. Werburghs
Bristol
BS2 9YR
Contact Information

[email protected]


Tel: 07866634313
Website
https://www.mackaycarpentry.co.uk/
Marc Mackay Carpentry is not your usual company that serves different carpentry services. They have been serving people in Bristol since 2005.
Clients on their Facebook pages left some positive comments. One said that they have been contacting Marc Mackay Carpentry for as long as they can remember and he never fails to impress them every time.
Another one mentioned that he would recommend them to their friends since he is a carpenter that gives attention to details, and unlike other carpenters, he is also fair, honest, and takes pride in his work.
Some clients left reviews on Free Index and to summarize most of it, they keep on complementing Marc since he is a very knowledgeable guy. They also gave him extra stars for being extra creative and well organized.