Featured Image Source from Phoenix
The Arizona weather can be unbearably hot and even more so if your AC is broken. Luckily, we gathered a list of the best AC repair options in Mesa, AZ for you here!
But before we present them to you, we'll run through the average cost of air conditioning repair. This way, you'll know which company from our list you should call to sort out your cooling unit.
How Much Does AC Repair Cost in Mesa, AZ?
In Mesa, Arizona, AC repair can cost from $155 to $632 based on Homeadvisor's research. On average, people generally spend around $393 to resolve the problem of their air conditioner.
The rates vary a lot among companies depending on the issue, difficulty, and required parts. Parts usually get a markup with repair technicians, but the key is to look for those that offer fair prices.
Most repair techs also charge per specific job and not per hour. To get a precise quote, the AC specialist will have to diagnose your unit on-site, especially if the problem is complex.
What's more, below is the table of common AC issues and their price ranges. You can use this as a reference to keep you from accepting a bid that's considerably higher than what most companies offer.
| | |
| --- | --- |
| Air Conditioning Issue | Cost Range |
| Replace fuses, circuit breakers, or relays | $15 – $300 |
| Capacitor replacement | $90 – $475 |
| Thermostat replacement | $115 – $470 |
| AC compressor repair | $100 – $250 |
| Condenser fan motor replacement | $100 – $700 |
| Freon recharge | $100 – $800 |
| Circuit board replacement | $120 – $600 |
| Freon leak and repair | $225 – $1,600 |
| Evaporator coil replacement | $650 – $1,200 |
| AC compressor replacement | $1,350 – $2,300 |
The Best AC Repair Options in Mesa, AZ
Now that you know what to expect in terms of repair costs, allow us to present to you the best AC repair options in Mesa, Arizona!
1) Arizona's Dukes of Air

SERVICES
AC/heating repair
AC/heating replacement
AC/heating maintenance
Indoor air quality
ADDRESS
6938 E. Parkway North, Mesa, AZ 85212, USA
CONTACT DETAILS
480-773-6565


[email protected]

WEBSITE
https://thedukesofair.com
For over 20 years, Arizona's Dukes of Air has been repairing, maintaining, and replacing HVAC systems for residential and business clients in Mesa, AZ and the surrounding areas.
They can also improve your indoor air quality to keep everyone at home comfortable and healthy. To do this, they use innovative technologies of CleanEffects and Air Scrubber Plus air cleaners.
The highlight of this company is their upfront and guaranteed rates—what they quote you is what you'll get.
With NATE-certified and Master Heat Pump technicians, the work will be done to high quality and safety standards. Not to mention, they are insured and bonded to cover accidental damages to your AC or property.
Unlike other technicians, they can service all makes and models of air conditioners. Hence, you won't need to find a different repair provider and pay an extra sum.
Furthermore, they provide a reliable 2-year warranty for their service and parts. If you notice any issues within this period, you can inform the team and they will sort them out.
To give you value for your money, they will waive the service call-out fee if you proceed with the repair work.
Plus, they give special discounts for client referrals. For instance, if you refer a friend to use their service or buy a new air conditioner or heat pump.
They're regularly open from Monday to Saturday. However, they can also take emergency calls on Sundays to service your cooling or heating system.
Offering top-notch workmanship, fair rates, and guaranteed service, Dukes of Air deserves a spot in our best options of AC repair in Mesa, AZ!
Fixed and guaranteed price
Certified and background-checked technicians
Service call is free with repair
BBB-accredited business
Accepts Mastercard, Visa, Amex, and Discover Network
Special deals and promotions are available
2-year service and parts warranty
Finance options available
Not open round the clock
Complaints about service quality and price
Customer Reviews
The family-owned business scored a great 4.9/5 stars on Google. Most people commended their courteous and knowledgeable staff as well as reasonable rates.
Check out Dan's feedback of the AC repair specialist:
"Great service. Justin kept me informed of every step. He provided much needed review of my entire system and corrected some errors made by a previous installer (ok, it was me). Price was as quoted and reasonable considering the amount of labor under the hot conditions."
Furthermore, Eric said this on Facebook:
"Scott was here yesterday. Super friendly and professional. He got in, got his work done, we settled up. Great service. We will use them anytime we need work done on our air conditioning unit for sure!"
2) Honest Air Inc.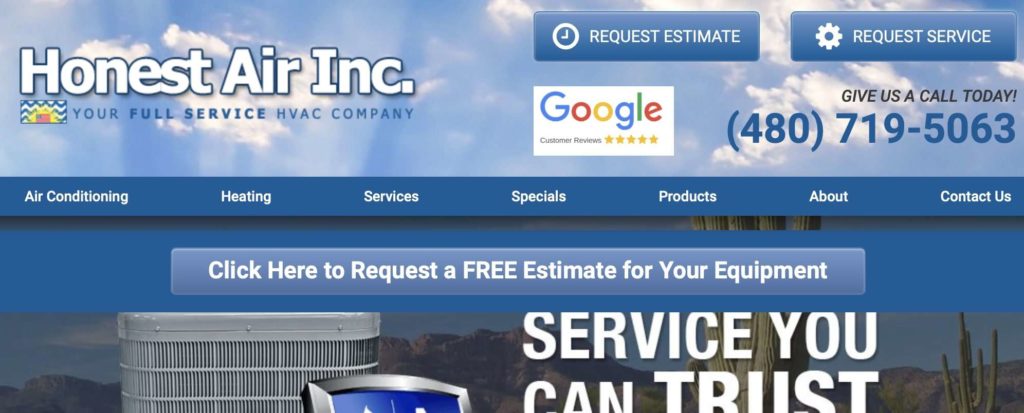 SERVICES
AC repair, installation & maintenance
Heating repair & installation
Heating maintenance
Gas and electric furnaces
Heat pumps
Indoor air quality
Air cleaners
Packaged units
Duct sealing
Duct sizing
ADDRESS
2942 N Greenfield #147, Mesa, AZ 85215, USA
CONTACT DETAILS
(480) 719-5063
WEBSITE
https://honestairconditioning.net
Looking for a responsive, efficient, and knowledgeable AC repairer? Available 24/7, Honest Air Inc. might work for you.
Whether your air conditioner has a broken fan motor, doesn't turn on, is covered in dust, or has other issues, their insured and certified technicians can handle them. And they service all the major AC brands.
Their services include AC maintenance and replacement to keep the unit energy-efficient. Besides that, they offer indoor air purification, heat pump repair, furnace repair, and duct sizing and sealing.
They currently hold an A+ rating from the Better Business Bureau with zero complaints in their more than 33 years of service.
You can request a free on-site inspection through their form online. The team aims to clearly explain the AC issues to clients and ensure they understand, only starting the work if you agree with the bid and work specifics.
Once the service is completed, you can pay them using Visa, Mastercard, American Express, or Discover credit card, which is convenient.
As for their cons, some people detracted their high markups and customer treatment. But these had not been so for the majority of their clients.
And though there's not a mention of a labor or parts warranty online, they strive to satisfy the customers when they work. So if you find any faults regarding their service, you can let them know about it.
Honest Air Inc serves the Greater East Valley including Mesa, Phoenix, Higley, Apache Junction, Scottsdale, and so forth.
Offers 24/7 emergency repairs
Licensed, bonded, and insured technicians
BBB-accredited business
Accepts Mastercard, Visa, Amex, and Discover Network
No mention of a service guarantee
No email address
Complaints about their price and service
Customer Reviews
They have a lot of repeat customers since they were very satisfied with their work. Most people described the AC repair professionals as punctual, fast, and honest to deal with.
Here's what Damian said of the company:
"Just got my A/c serviced and tech was good and honest! I never knew my air unit could blow such nice cool air before they came out! Happy Customer."
Now, let's see Mitchell's opinion on Facebook:
"I have been dealing with Honest Air for many years and have always felt like I was treated right I had a situation that I was uncomfortable with and the owner Jeff came to my house explained everything to me in terms that I understood and he made sure I understood before the work was done they truly are a HONEST company!!! and a pleasure to work with thanks Jeff for the GREAT service you provide!!!"
3) Hughes Air Heating & Cooling

SERVICES
HVAC Installations

Commercial HVAC systems
Air conditioning installation
Air duct Work
Trane heating and cooling

Repairs and Service

HVAC maintenance
Air conditioning repair
Furnace repair
Heat pump repair
Water heater repair

Accessories

Air filtration systems
Nest thermostats
Air scrubbers and purification system
WiFi thermostats
Zone dampers and controls
Whole-home humidification
Smoke and carbon dioxide detectors
Aeroseal and duct cleaning
AC surge-protectors
Attic insulation
ADDRESS
220 West 6th Avenue, Mesa, AZ 85210, USA
CONTACT DETAILS
480-247-6927


[email protected]

WEBSITE
https://hughesairco.com
Hughes Air Heating & Cooling provides installation, repair, and maintenance of HVAC systems. They serve both commercial and residential sectors throughout the Greater Mesa area.
Fully trained, bonded, and insured, they can repair centralized AC units and ductless split systems. They can give you a bid on the spot and go on to work on your air conditioner.
We picked them as one of the top options for AC repair in Mesa mainly because they have a speedy response and efficient and diligent technicians.
But if it turns out your AC can't be repaired or will be more expensive in its maintenance, they can supply and install a new Trane AC for you, which is a brand they specialize in.
Before the work, they will diagnose the issue and answer your questions. However, you would have to pay a service call-out fee, which is quite high compared to the rates of other companies.
What's unique with them is their price-match guarantee. If you find a lower quote from a different specialist, they will match it but note that certain conditions will apply.
They offer a 1-year warranty for their HVAC installation. However, to get a warranty for their AC and heat pump repairs, you need to purchase it or have them maintain your AC at least once.
Although Hughes Air is open only on weekdays, they are available for emergency calls as well. To request a free estimate, you can call, email, or fill up the form on their website.
Trane HVAC qualified installer
Offers a price-match guarantee (conditions apply)
Licensed, insured, and bonded repair crew
1-year labor warranty
Emergency services available
Offers a 15-month finance option
Shorter warranty period compared to others'
Expensive call-out fees
No special deals for Mesa clients
Customer Reviews
Hughes Air received favorable reviews from many clients. According to them, the technicians assisted them quickly, were professional and hardworking, and gave lower quotes than others.
One homeowner named LaKetta wrote of their service:
"Amazing customer service! So glad we found this company! They fixed our AC right away so we no longer had to live in a 90+ degree house! So grateful for the service they provided."
Also, Tony left this review of the AC technician:
"Fay answered the phone happy and willing to assist! And assist is what they did with having a thorough inspection done of our AC unit in the middle of a heat wave on the same day I called!!! Fixed the issue with plenty of options offered on a possible replacement!
⭐️ ⭐️ ⭐️ ⭐️ ⭐️"
4) Aire Serv Heating & Air Conditioning

SERVICES
Heating

Furnace maintenance, repair & replacement
Heater maintenance, repair & replacement

Cooling

Air conditioner maintenance, repair, replacement & installation
Ductless split AC systems

Commercial

Commercial AC maintenance, repair & replacement
Commercial furnace maintenance, repair & replacement

Other Services

Emergency HVAC services
Water heater installation
Humidifiers
Attic exhaust fan installation
Indoor air quality
Thermostat replacement
Thermostat installation
Attic insulation & ventilation
Ductwork installation
Carbon monoxide smoke detectors
Air purification
Whole-house fans
ADDRESS
1138 S Wilbur St, Unit 104, Mesa, AZ 85210, USA
CONTACT DETAILS
(480) 630-3261
WEBSITE
https://www.aireserv.com/
Can't seem to fit in an AC repair service with your busy schedule? Well, Aire Serv is open all the time and can repair your air conditioner and heater whenever you're available.
They serve both domestic and commercial clients in Mesa and Chandler areas. Should you decide to call them after hours, you won't be charged an overtime fee, so it's like a normal workday.
The company is made up of licensed and skilled technicians. They can identify the issue of your AC and provide a cost-effective solution coupled with a satisfaction guarantee for your peace of mind.
Common issues that they handle include fan motor breakdown, frozen evaporator coil, clogged condensate drain, weird unit noises and vibrations, freon leak, and more.
They accept major credit cards, cash, and checks, as well as give special discounts to those serving in the army. They also have a flexible finance plan perfect if you get them to do multiple AC repairs.
Despite being a franchise company, they have been regarded positively by a lot of clients. As it happens with most businesses, they have a few complaints with their rates and customer service.
With a full range of heating and cooling services, you can depend on them to keep your ventilation, heat pumps, and ACs at their best year-round. And bonus: their prices are also fair according to the reviews.
24-hour AC repair
Licensed repair team
Accepts credit cards
Gives military discounts
BBB-accredited business
Flexible financing plan
Guarantees all work
No email address
Complaints about price and customer service
Customer Reviews
For many clients, the repair technicians came on time and did a great job in repairing their AC. In addition, most people said they charged great prices and had great customer service.
One client named Anna shared this review on Google:
"Very good customer Service, Aire Serv sent Andre to come out and take a look at our AC unit, and he did a fantastic job. The visit was very informative and I'll definitely use Aire Serv again in the future."
Furthermore, here's a client review about their price:
"Replaced AC at great rate. Very happy with their communication and quality work."
5) Semper Fi Heating & Cooling

SERVICES
AC preventative maintenance
AC tune-up & repair
AC installation
Heater repair & installation
Air duct cleaning, installation & repair
Furnace installation & repair
ADDRESS
6555 E Southern Ave #1114, Mesa, AZ 85206, USA
CONTACT DETAILS
+1 480-616-3636


[email protected]

WEBSITE
https://www.semperfiheatingcooling.com
Semper Fi Heating & Cooling is a marine-owned AC service provider based in Mesa, Arizona. It offers air conditioning tune-ups, repairs, and installation at competitive rates!
They also carry out heater installation, electric or gas furnace repair, and air duct cleaning and repair. However, they don't offer commercial cooling and heating services, but you can ask them as they might be able to make an exception.
Their team is certified and experienced so you can entrust the work to them. On top of that, they stand behind all their workmanship with a solid guarantee.
They are available 24/7 to assist clients in times of AC emergencies. Unlike other companies, they don't charge any extra cost for this service.
Furthermore, they give a 20% discount to first responders and soldiers who help people and fight for the country. They have other special deals but as of this time, these aren't valid anymore.
It's relatively easy to get in touch with them and you can do so online or by calling them. One of their strengths is in their fast response, which is why they're one of the best AC repair choices in Mesa, AZ.
Semper Fi Heating & Cooling has a wide service area spanning Mesa and the entire Phoenix valley. They accept Mastercard, Visa, American Express, and Discover Network payments.
In summary, if you want market-leading rates and awesome customer service, you should certainly call this AC repair professional!
Competitive rates
24-hour emergency service available
Accepts Visa, Amex, Mastercard, and Discover Network
Offers first responder and military discounts
Guarantees all work
Offers finance options
Doesn't offer commercial services
Other special offers are expired as of now
Customer Reviews
Semper Fi was given a fantastic 4.9/5 stars by numerous clients on Google. Most of them praised their excellent rates, rapid response, and exceptional customer service.
Find out what Sirena said of the company:
"This was the fastest repair! It only took 2 hours from the time I called to the time the repair was complete! Chase had amazing customer service! I'm so thankful!"
Also, Joe mentioned this:
"Called them super early in the morning and they had a tech out in a couple hours! Had the repair done super quick and had us up and running! Great pricing and Great customer service! I will definitely be coming back to these guys!!"
FAQs about the Top Options for AC Repair in Mesa, AZ
---
And that wraps up the top options for AC repair in Mesa, AZ! With them, you won't have to endure days or weeks of irritating heat due to a broken air conditioning unit.
Have any questions or comments about our picks? Feel free to send us a message and we'll get back to you as soon as we can.
Need your plumbing system fixed or maintained? You may also want to read about our best options for plumbers in Mesa next!